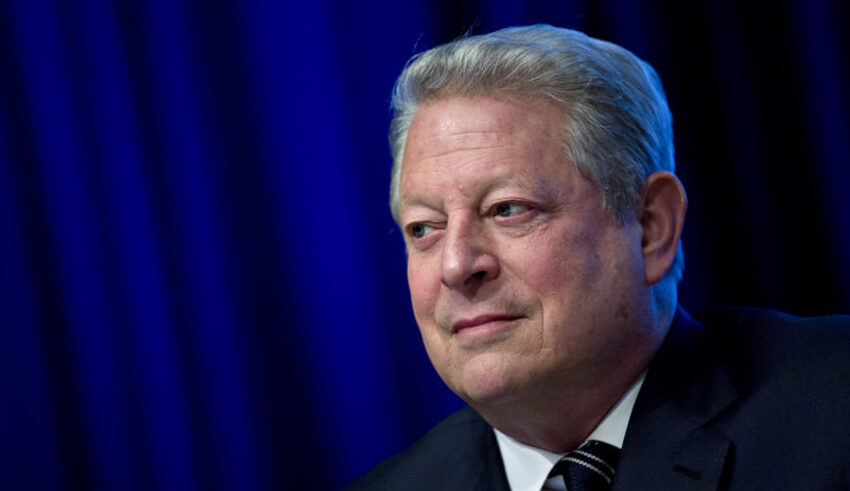 Al Gore, obviously agitated over the nomination of Sultan Ahmed Al Jaber, CEO of the Abu Dhabi National Oil Company, as president of COP28, stated at Davos: "Climate campaigners throughout the globe have concluded that those in charge are not doing their jobs." The impression of a conflict of interest weakens confidence even more.
The Climate Reality Project, a climate activist training organization created and directed by the former vice president of the United States, has initiated a petition calling on Al Jaber to quit as the oil company's CEO. It states, "You cannot walk ahead and backward at the same time."
Al Jaber's appointment has been met with shock and outrage from environmental organisations throughout the world. "Al Jaber cannot preside over a process charged with addressing the climate issue […] while leading an industry responsible for the problem," said Tasneem Essop, president of the non-governmental organization Climate Action Network. Greta Thunberg addressed guests at the World Economic Forum's annual gathering, "It is utterly absurd."
Frans Timmermans, EU Climate Commissioner, presented a more optimistic perspective. "I believe people are placing too much emphasis on his position as CEO of an energy firm," he remarked. "They should investigate his actions over the past few years. He has been in the forefront of efforts to bring the oil and gas sector into a more sustainable world." Probably associated with Al Jaber's other position as chairman of Masdar, Abu Dhabi's main renewable energy development.
The United Arab Emirates was the fourth-largest emitter of CO2 emissions per capita in 2019, after Qatar, Bahrain, and Kuwait, and the seventh-largest petroleum producer. The country also has a horrible record regarding women's rights. Human Rights Watch said in March 2021 that despite "major improvements" in recent years, "significant discrimination against women and girls persists." Prior to a July 2022 meeting between French President Emmanuel Macron and Abu Dhabi's Crown Prince Sheikh Mohammed bin Zayed, the NGO wrote: "In the United Arab Emirates, activists, lawyers, teachers, students, and those deemed to be critics are arrested, prosecuted, and detained, women and LGBT people face discrimination, and domestic workers are subjected to significant abuse."
On closer inspection, however, rather than NGOs and others opposing Al Jaber's nomination and demanding that fossil fuel firms be "kicked out" of COP, perhaps this is the time when the world transforms.
The COP process is broken in its current state. There is undeniable value in bringing all nations together once a year to argue and share practical methods for reducing emissions, but it seems unlikely that the best way to prevent humanity from committing "suicide by proxy" is to argue for two weeks over how much each nation should reduce emissions.
Keep Reading
The UNFCCC, which oversees the COP, is reportedly "raising concerns" about potential ties between the COP28 chair and the oil business. Instead of keeping in the background, the organization should be considerably more aggressive and courageous when organizing its climate conferences and calling out instances of misconduct or lobbying.
Together with member nations, it should examine precisely what COPs are intended to accomplish and how best to conduct them to achieve this objective. Progressive governments, corporations, and activists should collaborate to expose their rogue competitors, rather than hiding behind laggards in order to maintain business as usual.
Since winning its bid to host the COP28 climate meeting later this year, the United Arab Emirates (UAE) has been constantly criticized, notably for its continued reliance on oil and gas to support its economy. Others are denouncing the choice, despite the fact that some argue that the oil countries requiring the greatest diversification to exist without fossil fuels, such as the UAE, must be intimately involved in global climate negotiations.
Environmentalists around the world are concerned that the UAE would not take COP28 seriously and will hinder the annual climate conference's progress. And now that the UAE has proposed that a prominent oil and gas figure lead the meeting, it is facing even greater criticism. So, will COP28 promote climate objectives or hinder the green transition?
The United Arab Emirates was adamant from the beginning that oil and gas firms be closely involved if COP28 was to be hosted in their country, saying that engaging them in the conversation is the only way to bring about significant reform in the energy industry.
The UAE's Minister of Industry and Advanced Technology, Sultan bin Ahmed Al Jaber, stated early last year, "We cannot just disconnect from the current energy grid, nor can we do it with the flick of a switch. We need to engage energy specialists in the debates and discussions, and we need to make economic processes far more carbon-efficient."
The United Arab Emirates is the third-largest oil producer in the Organization of the Petroleum Exporting Countries (OPEC) behind Saudi Arabia and Iraq, thus this move is not unexpected. The government has set an ambitious goal of attaining net-zero carbon emissions by 2050, while simultaneously aiming to increase petroleum output to 5 million bpd by 2030, up from less than 4 million bpd currently. The decision to invite oil and gas companies in the climate conference underscores the government's attempt to achieve a compromise between climate policy advancement and maintaining oil and gas production.
The decision to allow oil and gas firms a key role in the climate conversation has been welcomed with varied reactions from world powers. Denmark has backed the UAE's choice to nominate Jaber as the head of the negotiations, indicating that oil and gas powers are crucial to a green transition. Dan Jorgensen, Denmark's minister for global climate policy and development, stated, "All societies, even oil-producing ones, must undergo a transformation if we are to maintain a temperature increase of less than 1.5 degrees."
In response to the criticism, a spokesperson for COP28 stated that Jaber "is an energy expert and founder of one of the world's leading renewable energy companies, a senior business leader, government minister, and climate diplomat with more than 20 years of experience taking climate action" and that "he is uniquely qualified to deliver a successful COP28."
Jaber has been seen to have a tough position on climate change, stating: "We do not need to wait for the global stocktake to determine its findings. We are completely off course," he stated at the time. "The world is playing catch-up with respect to the crucial Paris target of limiting global temperatures to 1.5 degrees Celsius. And the harsh fact is that global emissions must decline by 43 percent by 2030 in order to reach this objective."
Why Al Jaber may be the most excellent choice for COP28 UAE
If the world is fortunate, this might be the year when fossil fuel producers and climate campaigners join together to decrease emissions and secure the future of our planet.
If this seems hopelessly utopian, bring it up with the leaders of this resource-rich Middle Eastern kingdom that generates renewable energy. The United Arab Emirates is committed to injecting precision, urgency, and pragmatism into a process that has frequently lacked all three: the 28th United Nations Climate Change Conference, or COP 28, which the UAE will host from November 30 to December 12.
A significant portion of the climate community recognizes that the energy transition to renewables cannot be accomplished without fossil fuels, hence they must be made cleaner. They now acknowledge that natural gas, particularly liquified natural gas (LNG), with half the carbon footprint of coal, is a potent bridge fuel.
Once scorned by environmentalists, nuclear power is gaining new supporters, particularly with regard to small, modular units where there are less safety and proliferation worries.
Almost all major oil and gas firms, who formerly viewed climate campaigners with derision, now acknowledge the fact of climate science and are investing billions of dollars in renewable energy and attempts to make their fossil fuels cleaner.
This misses the fact that Al Jaber's extensive knowledge in both renewable and fossil fuels makes him an excellent candidate at a time when attempts to combat climate change have been much too sluggish and have lacked the inclusiveness to generate more revolutionary outcomes.
Al Jaber's enterprises ADNOC and Masdar (where he was founding CEO in 2005 and is now chairman) support the biennial Atlantic Council Global Energy Forum in Abu Dhabi.
Al Jaber is the CEO of the fourteenth biggest oil producer in the world. He was also the founding CEO of Masdar, one of the major renewable energy investors in the world, where he remains chairman. In addition, he represents a country that, despite its abundant natural resources, has become a major nuclear power producer, was the first Middle Eastern nation to sign the Paris Climate Accord, and was the first Middle Eastern nation to outline a plan to achieve net zero emissions by 2050.
Over the past 15 years, the UAE has spent $40 billion internationally in clean technology and renewable energy. It reached an agreement with the United States in November to invest an additional $100 billion in clean energy. Seventy percent of the UAE's GDP is generated outside of the oil and gas industry, making it an outlier among major producing nations in terms of economic diversification.
Sheikh Mohamed bin Zayed al Nahyan, president of the United Arab Emirates, has described his nation's strategy as follows: "In fifty years, we will load the final barrel of oil onto the ship. The issue is… shall we experience sadness? If our investment today is successful, I believe we shall celebrate this occasion, my brothers and sisters."
Al Jaber, in a Saturday address to the Atlantic Council Global Energy Forum, expressed his desire to achieve more rapid and dramatic results at COP 28.