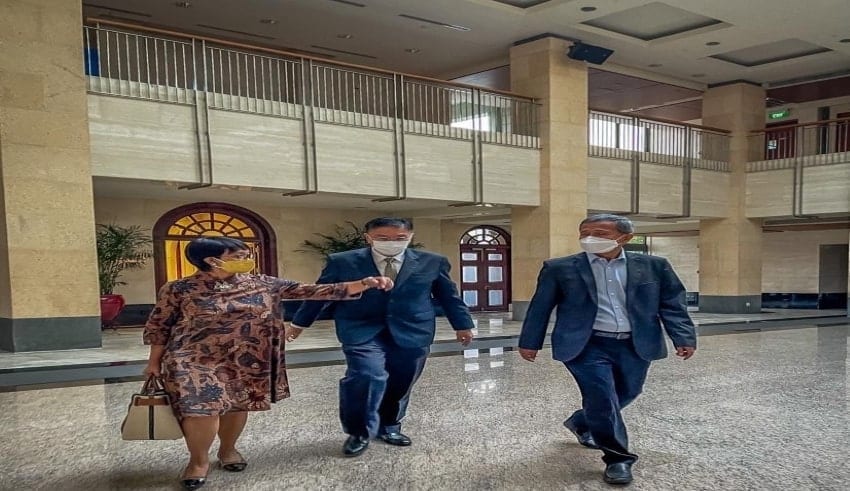 Indonesian Foreign Minister Retno Marsudi is spearheading an effort to get the Association of Southeast Asian Nations (ASEAN) more involved in resolving the political situation in Myanmar.
Retno flew to Brunei yesterday and is scheduled to visit Singapore today for talks to create an ASEAN consensus on the unfolding of the region's political crisis.
Thank you @VivianBala for receiving me today in Singapore (18/02). FM Vivian and I spoke among others on preparation of Leaders Meeting and on a number of ASEAN issues, including Myanmar. pic.twitter.com/iZNZnOXO7O

— Menteri Luar Negeri Republik Indonesia (@Menlu_RI) February 18, 2021
Her visit comes just over two weeks after Myanmar's army, or Tatmadaw, seized power, arrested State Counselor Aung San Suu Kyi and reversed her party's landslide victory in the November national election. An escalating national campaign of civil disobedience followed the coup, bringing the country's government to a standstill.
Following the decision by Indonesian President Joko Widodo and Malaysian Prime Minister Muhyiddin Yassin to urge their foreign ministers to talk with ASEAN Chairman Brunei this year to set up a special meeting in Myanmar to tackle the political crisis, the tour followed.
The coup is an important test for ASEAN, which claims to hold a position of diplomatic centrality in Asian diplomacy, but has often been slow in reacting to regional crises.
This is due to the ASEAN decision-making process, which is based on the principles of consensus, meaning that any ASEAN member state may veto a course of action, and an allergy to any suggestion of "intervention" in Member States' internal affairs.
Nonetheless, amid these institutional constraints, in her speech, Retno argued that her government believes that ASEAN "is the most effective mechanism for helping Myanmar cope with this delicate situation," adding that "Indonesia will continue its efforts to contribute to finding the best solution for the people of Myanmar and to maintaining regional stability, security and peace."
Although ASEAN Member States have shunned criticism of the coup in the same condemnatory terms as the United States and other Western governments, their responses have been mixed.
In the run-up to today's meeting with Retno, Singapore's Foreign Minister Vivian Balakrishnan said he supported Indonesia and Malaysia's call for ASEAN foreign ministers to hold a meeting to discuss Myanmar, but acknowledged that this would require the agreement of ASEAN member states, presumably including Myanmar.
"Given the importance and urgency of addressing recent developments, a meeting between ASEAN Foreign Ministers would be an opportunity for all ASEAN Member States to share their concerns and perspectives," he said in response to a query in parliament this week.