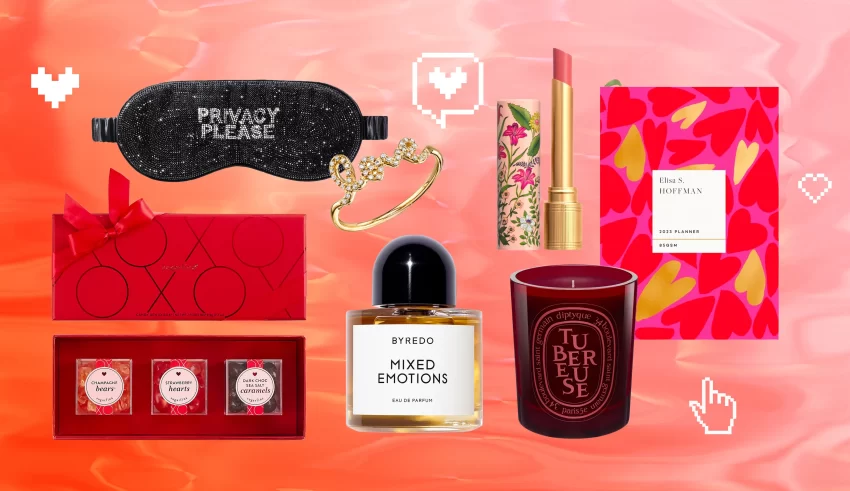 Finding the ideal Valentine's Day present for her can be challenging whether you have been dating for years or only a short while. Do you choose to err on the side of caution and stick with flowers and chocolate, or do you venture out and get her something unique?
We spent hours brainstorming ideas for the ideal Valentine's Day presents for her in order to assist you. Dayna Isom Johnson, an Etsy trend specialist, was also consulted for advice on selecting a romantic present.
If you're unsure of where to begin, she advises thinking of unusual and expertly made gifts that relate to her interests. "Some alternatives I appreciate are a DIY kit for the crafter and a striking cup for the coffee connoisseur."
Here are the top 10 Valentine's Day Gifts For Girlfriend.
1. Slip Pure Silk Pillowcase
With a plush silk pillowcase, like this option from Slip that is a staff favourite, give her the gift of a restful night's sleep. She can maintain her hair silky smooth and feel amazing on the slick surface, which also comes in a variety of colours to complement her current bedding.
2. What I Love About You Fill-in-the-Love Book
Give your sweetie a book of words of praise and affection if that's your preferred method of expressing your love. With the What I Love About You book, you may personalise a gift that will serve as a reminder of your love for the receiver.
3. Brooklyn Candle Studio Love Potion Candle
Even if she isn't a huge fan of Valentine's Day presents, she will value this nice, simple candle. Jasmine blooms, lavender, and mandarin are among the notes found in the lovely floral fragrance Love Potion, which is manufactured of soy wax and may burn for up to 50 hours.
4. Julia Rosario Falling for You Personalized Couple's Game
This handcrafted stacking game comes with 54 wooden blocks that have been laser-engraved with original prompts, such as conversation starters, challenges, and fill-in-the-blank lines. It's ideal for at-home date evenings. You and your spouse will become closer as the blocks are taken out and learn to know one another better. In order to tailor the game to your relationship, you may also choose to add five custom blocks.
5. Bean Box Perfectly Paired Coffee + Chocolate
She'll love this themed combination from Bean Box if you and she often bond over your mutual love of coffee and chocolate. You can select from whole beans or freshly ground coffee in this gift set, which also includes two gourmet chocolate bars and four speciality coffees (two medium roasts and two dark roasts).
Keep Reading
6. UrbanStems The Romeo
For a reason, flowers are a traditional Valentine's Day gift. Send your lover this jaw-dropping bouquet of roses from UrbanStems instead of purchasing a somewhat wilted bouquet from the grocery store. Additionally, it includes a coconut and vanilla reed diffuser that will enhance the atmosphere in addition to a stylish ceramic vase that she can easily refill.
7. MeUndies Matching Pairs
You might cringe at the idea of dressing alike with your significant other, but these matching underwear sets from MeUndies are excellent because no one else will see them. These matching undies are considerably more adaptable than lingerie and come in a variety of Valentine's Day-appropriate patterns, including the XOXO and heart motifs.
8. Milk Bar Red Velvet Duo
Even though cakes are more popular than chocolates, anyone who prefers baked goods would adore receiving one of Milk Bar's renowned cakes. She won't find a sweeter dish to satiate her sweet taste than the decadent dessert with layers of red velvet cake, cheesecake filling, and red velvet icing and crumbs. Additionally, the dozen red velvet truffles add to the allure of this present.
9. Image3D Custom Viewfinder Reel
This reel viewer could resemble the popular toy from your youth, but it actually contains whatever you want. Each viewfinder has a code to use to get a personalised reel straight from the company. Your companion will enjoy browsing through the well-selected photos you have selected, whether they are images of your relationship or those of your kids and pets.
10. Lunya Washable Silk Set
Who doesn't prefer to be as comfy as possible? Luxurious pyjamas make excellent gifts. This Lunya tank and shorts combo is available in eight seductive colours and is constructed of machine-washable mulberry silk.