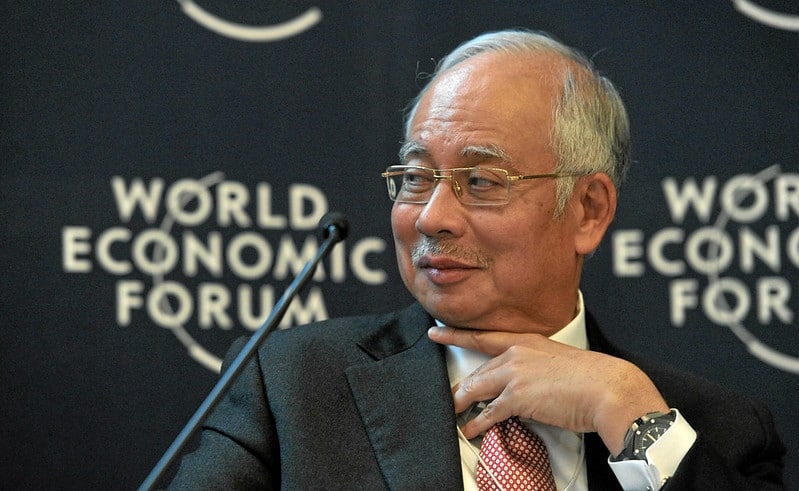 (C) Flickr, World Economic Forum
KUALA LUMPUR – Former prime minister Najib Abdul Razak was allowed by the High Court to attend Parliament this afternoon and deliver his speech there.
High Court judge Justice Collin Lawrence Sequerah allowed trial over 1Malaysia Development Berhad (1MDB) funds to end early and just decided to sit through the customary lunch break after receiving a letter from the Dewan Rakyat Speaker.
However the Judge said that he need to be informed well in advance as he will not be entertaining anymore request for similar adjournment on next occassions.
Najib's lawyer Tania Scivetti has appeared to indicate that Najib would prefer not to rush to the parliament as he need to be in a right state of mind to make the speech.
The judge also called out Najib's lead defence lawyer Tan Sri Muhammad Shafee Abdullah for failing to mention the reason for asking for adjournment.
Shafee had produced in court a letter from Parliament's Backbenchers' Council indicating that Najib was listed as having the top slot in the list of MPs to be making their speech in the Dewan Rakyat today.
The court, while acknowledging Najib's duties and responsibilities in the Parliament, also noted that they too, had duties to perform. Najib's 1MDB trial yesterday had gone until 5pm. Trial will resume tomorrow morning. Najib's trial over 1MDB funds has been hearing by the High Court for about 40 days, allowing the trial to be paused, ended early for unavoidable circumstances.