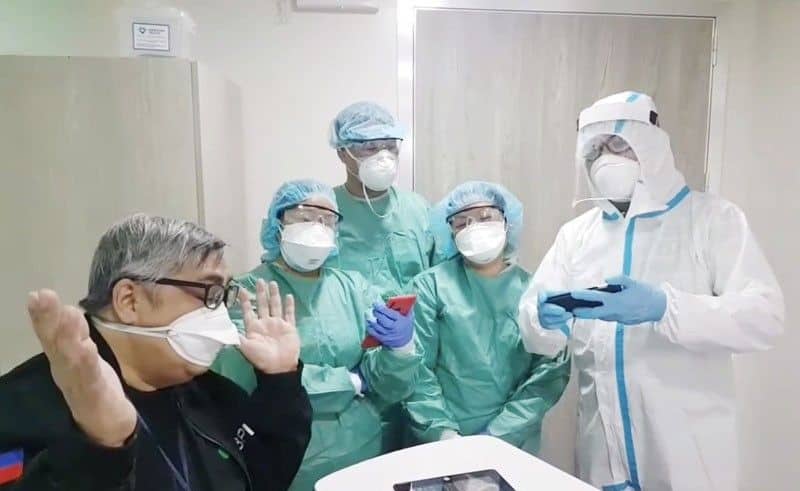 Filipinos are known to love music and whenever they experience the ups and downs of life, music will be one of the most go-to-resolutions to express their pains, challenges and thankfulness.
This time, It was an apt send-off to the survivor of COVID-19.
The composer-arranger Arnel de Pano was serenaded by frontliners and was released from the Marikina Valley Medical Center with "Lead Me Lord," a song he penned more than 35 years ago but has now found new life as a spiritual anthem in the country's fight against the pandemic.
A video of the tender moment when De Pano (who is also an award-winning choral conductor) has since gone viral with his nurses and doctor in full PPE gear. He expressed that health staff at the hospital were already singing the song to uplift other patients' spirits.
They finally discovered he was the composer when a virtual recording of "Lead Me Lord" was released by alumni doctors from the official choir of UP College of Medicine.
He remembered how his doctors and nurses worked to help him get better. As a survivor, he expressed his deepest gratefulness to the people around him, helping him and who never stop praying for him.
De Pano, who turned 58 last February, had developed shortness of breath and general fatigue at the onset of his symptoms. He has no idea how he contracted the virus, as he has no previous exposure to a positive COVID case and no recent history of travel, except for frequenting coffee shops. He was originally admitted as a patient in emergency because of suspected pneumonia and typhoid fever. He thanked the doctors' experience in having him follow COVID treatment, "instead of waiting for his swabs to come back. It might have been too late if they had not begun the treatment regimen. I was told, maybe one or two days later, that I tested positively.
The composer never imagined that this kind of crisis will lead to a battlecry of his own song against coronavirus.
Surely, many patients are still fighting for their life and with the help of the frontliners who are there to do their best to offer the health care they need for healing.