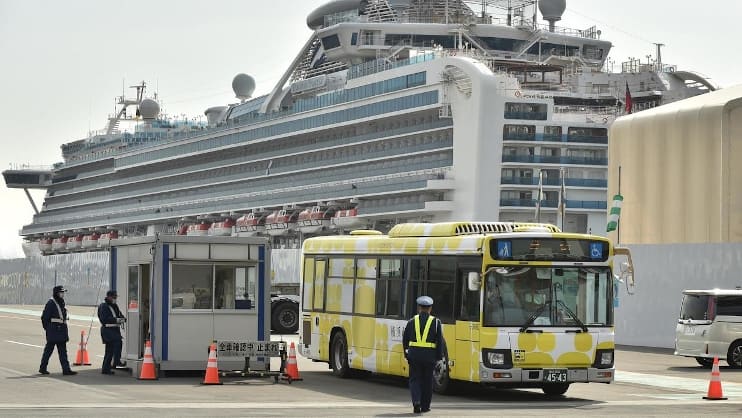 Two elderly passengers from the coronavirus-hit cruise ship moored near Tokyo have died, public broadcaster NHK said on Thursday, as a second group of passengers began disembarking after two-weeks quarantined onboard. More than 620 of the passengers on the Diamond Princess liner have been infected on the ship, which has been quarantined since Feb 3, initially with about 3,700 people on board.
Meanwhile, Beijing reported a big drop in new coronavirus cases on Thursday, fuelling hopes the epidemic is nearing its peak, The death toll in China rose to 2,118 as 114 more people died, but health officials reported the lowest number of new cases there in nearly a month, including in the hardest-hit province, Hubei. More than 74,000 people have been infected in China and hundreds more in some 25 countries, with Iran reporting two deaths, the first fatalities in the Middle East.
Health Minister Katsunobu Kato on Thursday defended Japan's response in parliament, telling lawmakers that officials have taken expert advice and responded to issues on a daily basis. In a move to reassure the public, the health ministry also issued a statement in both English and Japanese that said all passengers had been required to stay in their cabins since Feb 5 to contain the virus.
Those who have shared a room with people testing positive were required to remain in quarantine, as were crew. The ministry could not confirm how many people remained on board, or when disembarkation would be complete. More than 150 Australian passengers arrived home after a pre-dawn departure from Tokyo's Haneda airport. They face another 14-day quarantine.
Japan's chief cabinet secretary, Yoshihide Suga, when asked on Wednesday why Japanese leaving the ship did not have to spend another two weeks in quarantine, referred to the advice of Japan's National Institute of Infectious Diseases (NIID). The NIID said there should be no problem if people had shown no symptoms for 14 days and had tested negative for the virus during the period their health was under surveillance.