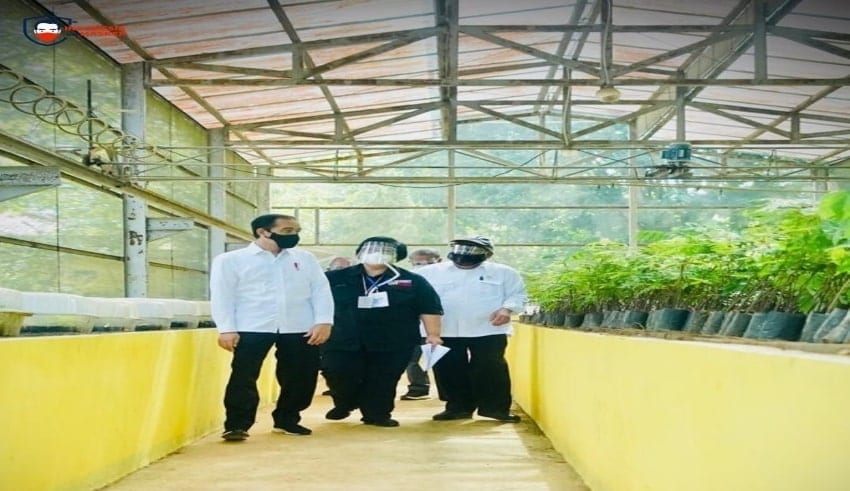 (C) Joko Widodo / Twitter
President Joko Widodo inspected the construction of the seed and seedling center in Rumpin, West Java's Bogor District, which will provide seeds for reforestation in disaster-prone regions.
The seedling center will be built over an area of 159.58 hectares, which will be split into multiple zones: the seedling zone, the public zone, the training zone and the business growth zone. He stated that they are optimistic that the nursery would be completed in 2021 and commence production. We would produce more than 16 million seeds.
Saya meninjau Pusat Sumber Benih dan Persemaian Rumpin, Bogor, pagi ini. Kita sedang menyiapkan lokasi produksi bibit-bibit tanaman yang akan didistribusikan ke lokasi atau wilayah yang sering mengalami bencana banjir dan tanah longsor.

Saya berharap, tahun depan sudah selesai. pic.twitter.com/GeWGw08d6t

— Joko Widodo (@jokowi) November 27, 2020
The seeds will be spread to areas that are vulnerable to flooding, landslides and other natural catastrophes. In fact, they are hopeful that the seeds would provide economic benefits in addition to their ecological role. I have instructed the seedling center to grow plants that provide both ecological and economic benefits.
The Head of State has noted that Indonesia will develop a green economy in the future. Hence, He have instructed to plant albasia, eucalyptus, mahogany, kaya, merbau, ebony, and teak and also fruit-bearing trees, such as durian. In view of this, The government will establish seven nurseries in Indonesia beginning in 2021. They are going to establish nurseries in Bogor, West Java, Toba, North Sumatra, Mandalika, West Nusa Tenggara, Labuan Bajo, East Nusa Tenggara, and Likupang, North Sulawesa Tenggara.
There will also be mangrove seeds provided by the nurseries. They have planned to develop 630 thousand hectares of mangrove forests, and this will need a nursery, a seedling center, which we will prepare soon.
Morever, The Head of State affirmed that Indonesia will concentrate on building a green economy. A sustainable economy, and we expect that it will have a greater effect on the economy of the people.