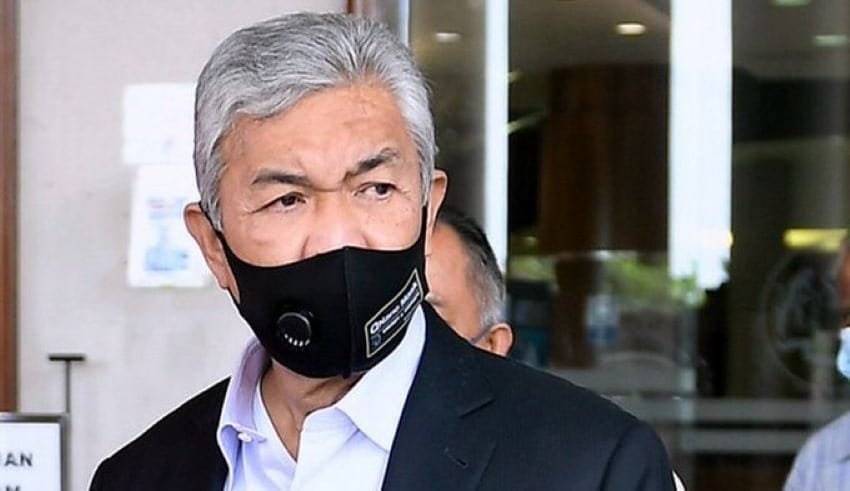 A Malaysian Anti-Corruption Commission (MACC) officer testified before the High Court in Ahmad Zahid Hamidi's trial that the inquiry into the former deputy prime minister for alleged RM13.25 million in corruption had no element of bias.
The MACC investigation into Zahid began in June 2018, according to investigating officer Mohd Zamri Abdul Rashid.
"We went to the law firm of Lewis and Co to gather the relevant documents. It was not done within 11 days, as what the counsel had said" he said, responding to deputy public prosecutor Mohd Afif Ali on the defence's contention that MACC only "took 11 days" to investigate Zahid.
Lawyer Hamidi Mohd Nor asked Zamri earlier whether the investigation was completed in "the shortest time".
In his witness testimony, Zamri said that he was assigned to the case on October 8, 2018. "On October 19, Datuk Seri was brought to the sessions court to face charges. But you just looked into it for 11 days?
"Based on my client's instruction, we would like to put forth our defence case that these charges were, in fact, biased?"
The defense's argument was refuted by Zamri.
In an attempt to refute MACC's corruption probe that linked Zahid to the firms, Hamidi said that "no one will deposit money collected from bribes" into their bank account.
The prosecution claims that between July 15, 2016 and February 8, 2017, Zahid accepted bribes from three companies in exchange for awarding them the MyEG project.
"The sum of RM13.25 million was a 'donation' from the three companies, Jogabonito Jewellery & Diamonds, Mastoro Kenny IT Consultant & Services, and Berani & Jujur Trading to Yayasan Akalbudi," the lawyer said. Yayasan Akalbudi is a foundation owned by Zahid.
"I do not agree," Zamri replied.
In response to questions about the financial status of the three companies from deputy public prosecutor Ahmad Sazilee Abdul Khairi, Zamri said the companies' correspondence addresses were registered to three separate apartment units in the city center.
"There were no business activities conducted by these three companies," he said.
"For Berani & Jujur, we raided the registered apartment unit and found there were no employees. However, there was a high volume of transactions in their bank account."
Zahid, who is also a Member of Parliament for Bagan Datuk, is charged with 12 counts of criminal breach of trust (CBT), eight counts of corruption, and 27 counts of money laundering, totaling RM117 million. The trial of Collin Lawrence Sequerah, a judge on the High Court, is still ongoing.