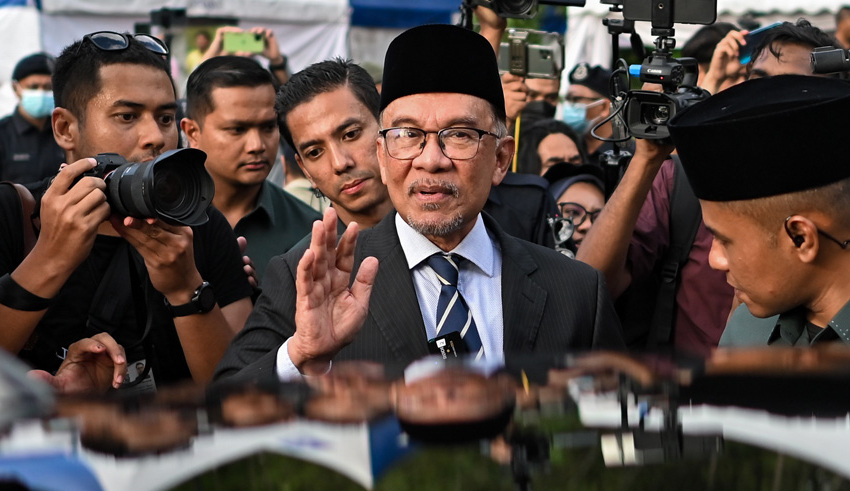 Anwar Ibrahim, the recently selected prime minister of Malaysia, stated on November 25 that he will prioritize the cost of living as he enters office amid a faltering economy and a highly divided nation following a tight election.
Anwar, 75, was sworn in as prime minister on November 24, culminating a three-decade political career from protégé of senior leader Mahathir Mohamad to protest leader, prisoner convicted of sodomy, and opposition leader.
Anwar, who was selected by the monarch of Malaysia on Thursday following an indecisive election, stated that the economy was his first priority and that his cabinet would be smaller than in past governments.
After reporting to the prime minister's office, he addressed a news conference, "My current focus is to alleviate the expense of living."
Anwar has not yet announced his coalition government's cabinet selections. He had previously stated that his government will include two vice prime ministers, one from the old ruling coalition Barisan and the other from minor political blocs in Malaysia Borneo.
His appointment concluded five days of extreme upheaval following the election.
His opponent, former prime minister Muhyiddin Yassin, had refused to capitulate, daring Anwar to demonstrate his parliamentary majority. However, Muhyiddin stated on Friday that he welcomed Anwar's nomination and that his coalition will serve as the opposition.
Saturday's election campaign placed Anwar's progressive, multiethnic coalition against Muhyiddin's predominantly conservative, ethnic-Malay, Muslim coalition.
In ethnically diverse Malaysia, which has had three prime ministers in as many years, no candidate gained a majority, heightening the danger that a stalemate would exacerbate instability.
Moreover, the squabbling posed a risk of postponing necessary economic recovery-promoting policy measures.
Keep Reading
King Al-Sultan Abdullah, the constitutional monarch, defused the problem by choosing Anwar after consulting with numerous politicians.
Throughout his career, Anwar has been denied the position of prime minister despite coming close multiple times. He also served nearly a decade in prison for sodomy and corruption charges he claims were politically motivated.
"Anwar's mission to reconcile a very polarized and divided society on the basis of race and religion has just begun," said former legislator and coalition ally Lim Kit Siang.
Thursday's market rally coincided with the end of a political stalemate, but investors will closely examine how Anwar handles the aftermath of the election.
On Friday morning, Malaysian equities were flat on the.KLSE after gaining 4% the previous day, while the ringgit extended its gains by over 1%.
Anwar's followers hoped that his administration would prevent a resurgence of conflicts between the ethnic Malay, Muslim majority and the ethnic Chinese and Indian minority.
Anwar's alliance, known as Pakatan Harapan, gained 82 seats more than Muhyyiddin's Perikatan Nasional bloc, which won 73. A simple majority of 112 votes was required to create a government.
The Barisan alliance, which had controlled politics since the country's independence in 1957, garnered just 30 seats, its poorest electoral showing ever.
Anwar said on Thursday that the Barisan coalition and a coalition of parties from Malaysian Borneo have promised support for his government.
He said on Friday that another Borneo group had joined, giving him the support of more over two-thirds of the 222-member parliament.
A two-thirds majority is required for the government of Anwar to modify the constitution. Since 2008, no Malaysian administration has held such a large majority in the lower chamber.
Muhyiddin's coalition includes the Islamist party PAS, whose electoral victories caused worry among the majority-non-Muslim Chinese and Indian minorities.
Authorities have warned of a surge in ethnic conflict on social media since the election, and TikTok announced this week that it is on high alert for anything that violates its policies.
The budget for next year, which was planned before the election was called but has not yet been ratified, is another pressing concern for Anwar.
Anwar stated that he would convene the lower house of parliament on December 19 for a vote of confidence to demonstrate his majority.