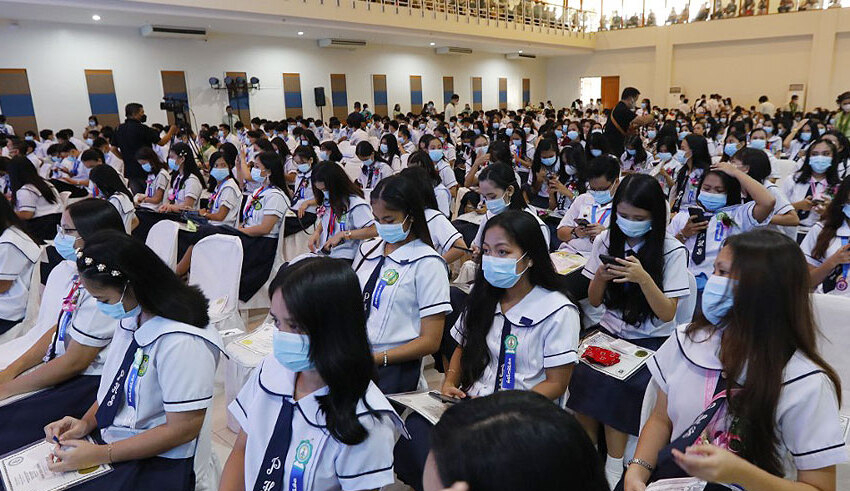 (c) Business World Online
In 2018, a survey by the Philippine Business for Education (PBEd) determined that the first class of SHS graduates possessed "theoretically" 93% of the competences required by the nation's businesses, such as critical thinking and problem-solving abilities.
In contrast, according to a second PBEd research, just 20% of the nation's top 70 corporations across all industries were interested in hiring SHS grads. Employers exclusively accept applicants with at least two years of college education, barring high school graduates from consideration.
In 2020, a research conducted by the Philippine Institute for Development Studies (PIDS) revealed that the majority of SHS graduates preferred to pursue a bachelor's degree at the postsecondary level. According to PIDS, little more than 20% of SHS graduates enter the job field, while over 70% continue their education. According to the research, the government must "reexamine the employment and entrepreneurial goals of the SHS program."
This was the situation with Mark. When he realized that companies did not like SHS graduates, he decided to complete his studies in order to improve his employment prospects.
Senator Alan Peter Cayetano stated in a statement on November 14 that the administration should reconsider the execution of the K-12 program.
"The immediate solution is straightforward: either i-suspend ang (suspend the) K to 12 for five to ten years till we have the resources, or finance the K to 12 immediately as it was originally intended," Cayetano stated.
Keep Reading
The senator stated that the K-12 program has thus far failed to "address concerns with the quality of education in the country," citing the obvious contrast between what was promised for K-12 and what really exists.
In his first State of the Nation Address, President Ferdinand Marcos Jr. stated that the K to 12 program was undergoing a "careful evaluation."
There have also been extensive disputes on the continuation and feasibility of the K-12 education system. The President stated that all required inputs and points of view are now being considered as we conduct a thorough examination.
In an effort to provide more employment prospects for Filipinos, Vice President and Education Secretary Sara Duterte has urged the corporate community to consider hiring K-12 graduates.
"This is a statement from the Commission on Higher Education (CHED) that our country has a diploma mindset. Are college degrees a prerequisite for employment in industries?" Duterte asked.
The Vice President stated, "We expect to see the assistance of your sector in ensuring that our high school graduates are hired and employed by the companies in which you engage."
Two more years of basic schooling are already a hardship for most Filipino households due to increased commodity prices. Mark and other poor Filipinos anticipate rapid government response.
Mark stated, "They need to reevaluate because, as I recall, one of the purposes of K-12 is for pupils to be on level with students in other nations in terms of skills and employability, but nothing has occurred."