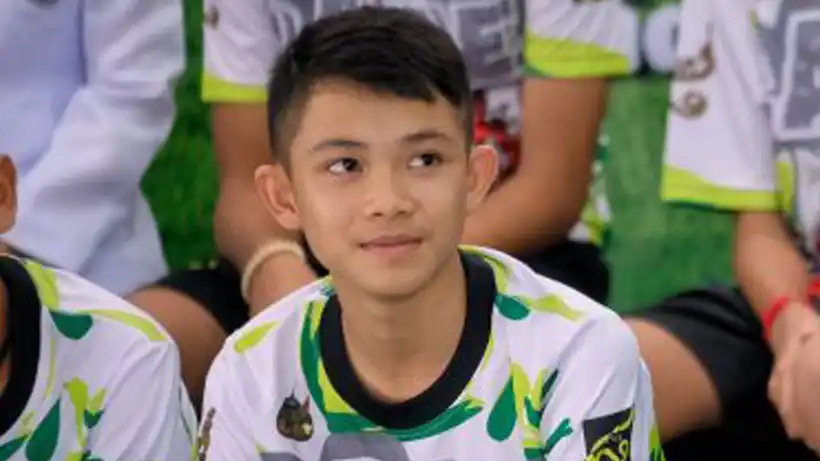 A 17-year-old boy was found unconscious in his dorm in Leicestershire on Sunday and taken to hospital, where he died on Tuesday. Since late last year, he had been enrolled in a football academy in the UK. During an exploration in Chiang Rai province, he led a Thai boys' football team that was trapped deep inside a cave for over two weeks.
After the boys were found in the cave, his grinning face was caught by the torchlight of a diver. Despite not knowing how the teenager died, Leicestershire Police said his death is not being treated as suspicious. Reports in Thailand say he was injured in the head.
They rejoiced when Promthep, who they call Dom, announced on Instagram in August that he had won a scholarship to Brooke House College Football Academy. "My dream has come true today," he wrote. Six months after losing their friend, they are still grieving.
Upon learning of his death, his mother informed the Wat Doi Wao temple in his hometown of Chiang Rai, which the team often visited. It was accompanied by pictures of the football team with monks and said, "May Dom's soul rest in peace." Messages began pouring in from his teammates soon after.
"You told me to wait and see you play for the national team, and I always believed you would," wrote Prachak Sutham, one of the boys rescued with Promthep in 2018. When we met the last time before you left for England, I joked that I would have to ask for your autograph when you returned.
"Sleep well, my dear friend. We will always be 13." Titan Chanin Viboonrungruang wrote: "Brother, you told me we would be achieving our football dream… If the next world is real, I want us to play football together again." Mark Gooding, British Ambassador to Thailand, expressed his condolences to his family and friends in a tweet.
In Chiang Mai, Promthep attended Vachiralai Bee School, where he was a member of a youth football team. The hashtag #footballismylife often appears in his Instagram posts about the sport.
He posted a sketch of his "dream team's football kit" in January – a blue and pink stripe jersey, shorts, socks, and shoes.
In 2018, what happened?
On 23 June 2018, the Wild Boars (Moo Pa in Thai) football team, of which Promthep was captain, cycled to the Tham Luang cave, one of their favorite destinations.
As a result of a sudden storm, the narrow passageways in the cave system flooded, trapping the boys and their coach. Divers found them after nine days without food and darkness during a desperate search effort involving 10,000 people. When Promthep was trapped in the cave, he was 13 years old. His teammates were 11-16 years old, and their coach, Ekkaphon Kanthawong, was 25 years old.
They dug holes with rocks to escape, while their coach taught them meditation techniques to stay calm and use as little air as possible.
They were rescued after being sedated with ketamine by divers who sent them food and letters from their families. A six-episode Netflix miniseries retold the extraordinary story of the rescue, which made headlines around the world.
Read More: Budget 2023 – Keeping Singapore Competitive And Resilient Requires A Sensible Fiscal Balance