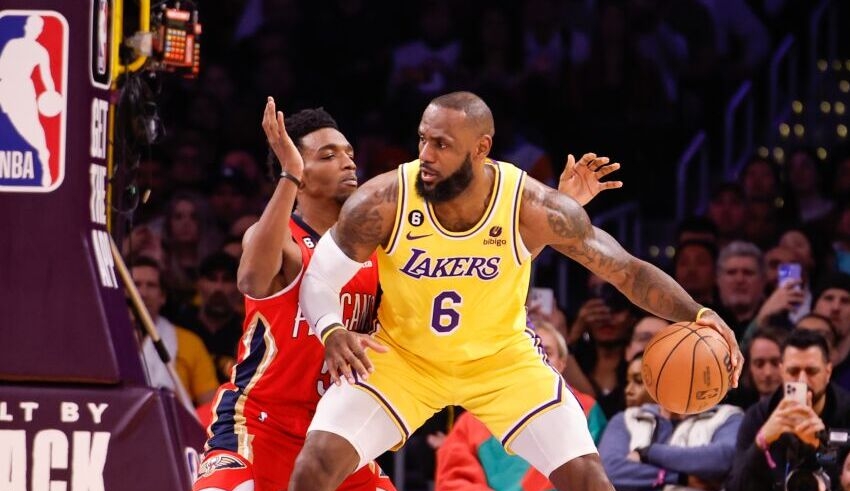 On Wednesday, February 15, the Los Angeles Lakers defeated the visiting New Orleans Pelicans 120-102 in their final game before the All-Star break. Anthony Davis recorded a double-double of 28 points and 10 rebounds, and LeBron James scored 21 in his return to the floor (Thursday, February 16, Manila time).
D'Angelo Russell scored 21 points and Malik Beasley added 8 to lead the Lakers to their second victory in the last six contests. All three players were in their third game for Los Angeles after being acquired through trade the previous week.
James missed the previous three games due to an ankle injury; his last appearance was on February 7, when he established the NBA's all-time scoring record. Los Angeles had a 1-2 record without him.
Brandon Ingram scored 25 points against his previous team, the New Orleans Pelicans, while CJ McCollum added 22 points after missing Monday's game against the Oklahoma City Thunder due to an ankle ailment.
Keep Reading
Jonas Valanciunas scored 12 points and grabbed 11 rebounds for New Orleans, which enters the break having lost two of its past six games after a 10-game losing run.
The Lakers maintained a lead throughout the whole game, leading by as much as 15 points in the first quarter and carrying a 38-25 edge into the second. The score was 55-51 at halftime and 56-55 with less than two minutes remaining in the second half.
Russell's three-pointer increased the Lakers' lead back to double digits at 79-67 with 3:21 remaining in the third quarter. They led 89-75 heading into the fourth quarter and cruised to victory.
Willy Hernangomez and Herbert Jones both scored 14 points for the Pelicans. Dennis Schroder scored 10 points for the Lakers, while Mo Bamba scored 4 points and grabbed 6 rebounds in 16 minutes during his debut with the Lakers.
Josh Richardson of the Pelicans was removed with 10:52 remaining after receiving a double technical for appearing to be fouled by LeBron James on a jumper attempt that was not called.
Read More: Top 10 strongest earthquakes in the world