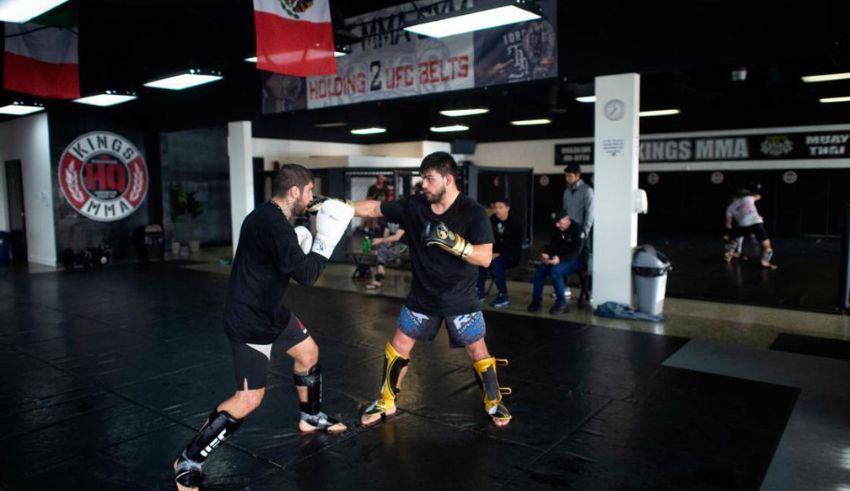 Embark on a transformative journey into the heart of martial arts mastery in Singapore, where the city-state's dynamic and diverse landscape hosts a collection of premier Mixed Martial Arts (MMA) gyms. From world-class instructors to cutting-edge facilities, Singapore delivers an unparalleled experience for fighters at every level, shaping a community that thrives on discipline, strength, and the pursuit of excellence.
1. Evolve MMA: Forging Champions Amidst Excellence
At the pinnacle of Singapore's MMA scene stands Evolve MMA, a powerhouse that has become synonymous with excellence. With a roster of World Champion instructors across various martial arts disciplines, including MMA, boxing, Brazilian Jiu-Jitsu, and Muay Thai, Evolve MMA sets the gold standard. Many instructors boast current or former World Champion titles, bringing a level of expertise and knowledge that elevates their training programs.
The gym, with its five locations strategically spread across Singapore, has produced and trained fighters who have competed at the highest levels, including the prestigious ONE Championship. Icons like Demetrious Johnson, Angela Lee, and Xiong Jing Nan call Evolve MMA home, adding to its legacy as a breeding ground for champions.
Beyond its star-studded lineup, Evolve MMA offers high-quality facilities equipped with modern amenities. The gym's environment fosters both learning and high-intensity workouts, essential for effective MMA training. The large community of members, ranging from beginners to professional fighters, creates a network of support and collaboration. Seminars, workshops, and events further enrich the training experience, making Evolve MMA a versatile and comprehensive hub for martial arts enthusiasts.
2. Synergy BJJ MMA Academy: Foundations of Power in Every Move
Synergy BJJ MMA Academy stands tall as a beacon of quality coaching and a representative of the official Rickson Gracie Team. Nestled on North Canal Road, it captures the essence of mixed martial arts by emphasizing strong fundamentals. For those seeking a solid foundation in MMA, this academy offers a curriculum that intertwines the artistry of Brazilian Jiu-Jitsu and the power-packed strikes of MMA.
The academy's mission goes beyond individual excellence; it aspires to promote and spread mixed martial arts and Brazilian Jiu-Jitsu globally, setting a standard for martial arts teachings. Synergy MMA Academy embodies the spirit of synergy – the combination of forces for superior total effect – creating an environment where fighters can hone their skills and build a foundation rooted in power and technique.
3. Stronghold MMA: Where Families Thrive and Individuals Flourish
More than a gym, Stronghold MMA stands as a testament to family-oriented training and individual growth. Situated on Turf Club Road, this family-owned enterprise, managed by the dynamic duo Luke and Charmaine Leasure, has cultivated an environment where safety, inclusivity, and personal development take center stage.
Distinguished by a university-like approach to training, Stronghold MMA's curriculum is designed for long-term progression. Each lesson contributes to a comprehensive learning experience aimed at maximizing retention, ensuring that no student feels lost or left behind. The gym's commitment to hands-on training, with instructors engaging with students daily, fosters strong student-teacher relationships.
In addition to its focus on structured training, Stronghold MMA is characterized by its commitment to individual growth. The gym's instructors, including Luke and Charmaine, actively participate in the training sessions, creating a supportive atmosphere where no pupil feels neglected.
4. Matrix MMA: Elevating Singapore's MMA Landscape
Established in 2020, Matrix MMA swiftly emerged as a leading mixed martial arts gym in Singapore. The gym prides itself on an elite team of instructors, including former ONE Championship star Major Overall. This cadre of trainers encompasses competitive fighters, national team athletes, and boxing champions, bringing a wealth of experience and skill to the training programs.
Matrix MMA distinguishes itself by providing comprehensive training across all facets of martial arts. Whether you're a beginner learning basic techniques or a professional honing advanced footwork, the gym's curriculum caters to all skill and fitness levels. This inclusivity makes it an ideal choice for those interested in martial arts as a sport, fitness enthusiasts seeking a structured training regime, and experts aiming to refine their skills.
Quality is non-negotiable at Matrix MMA, as evidenced by its commitment to top-notch training facilities, spacious training areas, and state-of-the-art equipment. The gym offers an array of unlimited classes in MMA and other disciplines, ensuring a versatile and dynamic training ground for individuals at any fitness level.
5. iMMA: Where Fitness Meets Fun and Expertise
Located on Winstedt Road, iMMA emerges as a vibrant hub where fitness meets fun under the guidance of experienced instructors. The gym's classes are designed to provide a comprehensive workout, bolstering strength, enhancing endurance, and elevating overall fitness levels. With a commitment to catering to individuals of all skill sets, from beginners to seasoned athletes, iMMA offers a diverse range of classes to meet varied needs and abilities.
iMMA's philosophy centers on making fitness an enjoyable and captivating experience. The gym fosters a supportive community that motivates members to strive for growth and progress. To maintain interest and offer ongoing challenges, iMMA provides a wide variety of classes. Safety and comfort are paramount at iMMA, reflected in the state-of-the-art equipment that ensures an optimal training environment for all members.
Additionally, iMMA's instructors excel in making modifications and adjustments to workout routines as necessary, contributing to a safe and effective training experience for everyone involved.
6. Juggernaut Fight Club: Unleashing Potential in Every Strike
Juggernaut Fight Club stands as an MMA and fitness gym with a formidable reputation, boasting locations in Chinatown and Beach Road. The gym offers a diverse range of combat sports and fitness programs, including but not limited to boxing, Muay Thai, Brazilian Jiu-Jitsu (BJJ), and wrestling.
Quality and personalized instruction are the hallmarks of Juggernaut Fight Club. The gym's trainers often have a deep background in their respective disciplines, some with professional or competitive experience, such as ONE Championship superstar Rahul Raju. This ensures that individuals, whether they are beginners venturing into combat sports or professionals aiming to sharpen their skills, receive guidance that aligns with their goals.
Juggernaut Fight Club provides a variety of training amenities and spaces, making it a preferred choice for individuals serious about their combat sports training. The gym's programs cater to all levels, offering both group classes and private training sessions to accommodate diverse preferences.
7. Impact MMA: Where Champions Emerge and Skills Sharpen
Impact MMA, nestled on Race Course Road, has been a stalwart in Singapore's MMA landscape since its establishment in 2010. The gym has earned a reputation for offering high-quality, affordable martial arts training, guided by accomplished fighters and athletes.
The gym's focused and gimmick-free approach to training is led by seasoned coaches, ensuring a comprehensive learning experience. Impact MMA is equipped with state-of-the-art gear, providing an optimal environment for honing both technical and strategic elements of combat sports. The academy excels in producing competitors who shine in both local and international arenas, spanning amateur and professional circuits.
8. Fight G MMA Academy: The Art of Superiority Unveiled
Fight G MMA Academy stands as an eminent mixed martial arts gym, offering an extensive array of courses in martial arts and overall fitness. With a focus on the esteemed arts of Muay Thai, boxing, and Brazilian Jiu-Jitsu (BJJ), the academy delivers top-notch instruction from highly qualified trainers.
Driven by a community-centric ethos, Fight G MMA Academy creates a congenial atmosphere that nurtures trainees across various skill levels. This approach promotes both martial expertise and comprehensive physical conditioning. In essence, Fight G MMA Academy serves as a hub for those aspiring to master martial arts or seeking a robust workout experience.
9. Fighter Fitness Singapore: Beyond Conventions, Beyond Limits
Fighter Fitness Singapore redefines the MMA training landscape by offering disciplines beyond the conventional. Martial arts such as krav maga and judo are integral parts of the training programs. What sets this establishment apart is its roster of specialized seminars, including anti-knife sessions led by industry experts. These seminars empower individuals with essential self-defense skills, expanding the horizons of what MMA training encompasses.
Furnished with cutting-edge equipment and guided by seasoned trainers, Fighter Fitness Singapore merits serious consideration for those seeking a holistic and enriching physical fitness experience. Regular promotions and strategic locations across easily accessible locales make Fighter Fitness Singapore a compelling option to explore before settling on any alternative gym choices.
10. Onyx MMA: Community-Centric Excellence Redefined
Onyx MMA emerges as a refreshing alternative to the plethora of martial arts facilities predominantly clustered in Singapore's Central Business District. With strategically located gyms in Jurong East, Tampines, and Yishun, Onyx MMA caters to a diverse demographic, offering an array of martial arts disciplines including Muay Thai, Brazilian Jiu-Jitsu (BJJ), and boxing.
Tailored for individuals who embrace remote work or those yearning for a more community-oriented ambiance, Onyx MMA strategically positions its gyms to cater to such preferences. The establishment goes beyond accessibility, extending financial incentives such as discounted tuition for students and National Service Full-time personnel (NSFs), making it an even more attractive option for those in various life stages and commitments.
In conclusion, Singapore's vibrant MMA scene is a testament to the city-state's commitment to excellence in martial arts. These top 10 gyms not only offer world-class training but also foster communities where individuals can push their limits, unlock their potential, and embrace the transformative journey that MMA embodies. Whether you're a novice eager to step into the ring or an advanced fighter seeking to refine your techniques, Singapore's MMA gyms provide the arena where warriors are not just made but continuously forged to reach new heights of excellence.