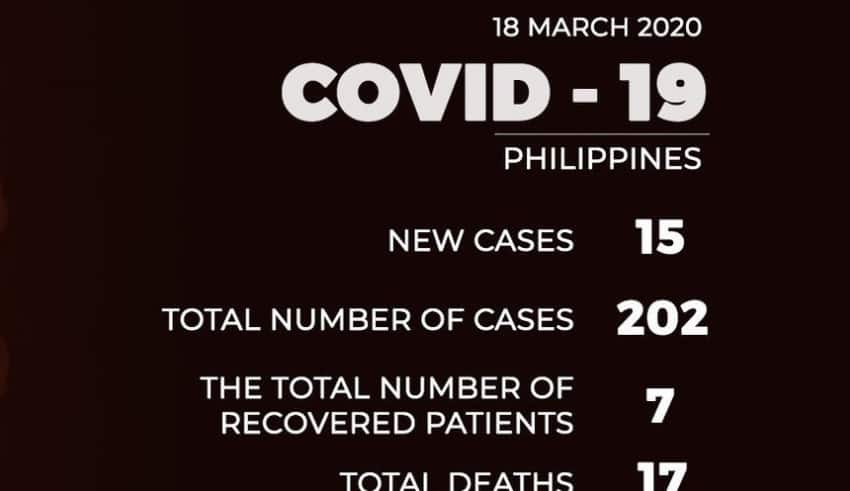 The Department of Health (DOH) announced that three more individuals who tested positive for the 2019 coronavirus disease (COVID-19) had died, taking the total number of deaths to 17 as of 12 noon Wednesday.
Among the new deaths is a 58-year-old Filipino male from Lanao del Sur who has a history of traveling to Malaysia, health department said on Wednesday.
The patient (PH201) died Tuesday morning of secondary COVID-19 acute respiratory distress syndrome (ARDS). On Wednesday he was only confirmed positive from the virus.
A 65-year-old Pasig City Filipino male (PH57) also died as a result of ARDS secondary to COVID-19 and pneumonia, the DOH said.
PH57 had a travel history to London, and the respiratory disorder was confirmed positive last March 13.
The 17th COVID-19 patient who died was an 86-year-old female Filipino from San Juan City who had no history of travel or exposure to a reported COVID-19 event, the DOH said.
She died on Tuesday because of secondary septic shock to pneumonia, which is secondary to COVID-19. The patient was confirmed Monday to have contracted the virus.
The DOH also recorded 15 more cases of the disease, bringing the total to 202.
Most people with COVID-19 can recover as their symptoms are mild, for example fever and cough. But for others the disease may be more severe, likely leading to pneumonia, particularly for older adults and those with established health problems.
The World Health Organization named the disease a global pandemic after it killed almost 5,000 people worldwide and infected 110,000 others.
The novel coronavirus was called SARS-CoV-2 by the International Committee on Virus Taxonomy.
For most people, the virus causes mild symptoms such as fever and cough but may cause severe illness for others such as pneumonia, particularly for older adults and people with established health problems.
Coronavirus is a virus family which has a crown-like appearance on the surfaces. The viruses on their surfaces are named after spikes.
To address the pandemic, President Rodrigo Duterte has placed the Philippines under a state of calamity for a period of six months "unless earlier lifted or extended as circumstances may warrant."
The President also put Luzon's entirety under "enhanced neighborhood quarantine" from 17 March through 13 April.