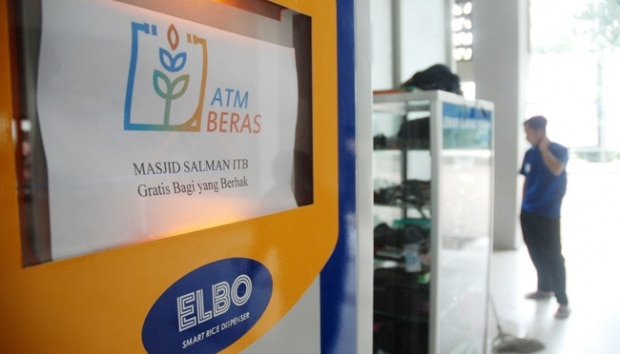 The fulfilment of food needs is very necessary during Covid-9 pandemic. A national program is being planned by the Ministry of Agriculture that procures booths, which distributes rice, similar to an automatic teller machine (ATM). By this program nearby residents can access this facility.
According to Minister of Agriculture Syahrul Yasin Limpo, that based on the calculations done by the ministry, the program would require funds upwards of hundreds of billions. As a result, other programs in the Ministry of Agriculture will be postponed due to the budget.
"The ATMs for rice will provide 1.5kg of rice per withdrawal," he said, on Tuesday, April 14, 2020.
In addition, Shayrul will ask all governors in 34 provinces to provide the Ministry of Agriculture food availability reports, especially the availability of 11 basic food products and livestock products, in preparation for the coming Eid al-Fitr.
Meanwhile, a community unit in Madiun, East Java, has set up an "open kitchen" so that people in the area whose incomes have been affected by the COVID-19 pandemic will not need to go hungry.
The kitchen is built which accessible to the public in the yard of a house and opened two weeks ago. This was initiated by residents of community unit (RT) 37 in neighborhood unit (RW) 09 of Mojorejo, a subdistrict of Taman district in Madiun.
The RT chief, Syamsul Hadi, 43, said most people in the neighborhood worked in the informal sector as street vendors, parking attendants and pedicab drivers and the like and their daily income had been devastated because of the coronavirus outbreak.
Those who have small businesses are temporarily closed to comply with the government's physical distancing policy.
With the collected money at least Rp 400,000 to start, they bought food supplies to start operating the kitchen.
From the beginning the open kitchen could provide around 90 food packages in the morning and another 90 packages in the evening. Now, it can produce 220 packages of food per day, of which 110 are distributed in the morning and 110 in the evening.
Syamsul said, the kitchen needed around Rp 500,000 per production. The open kitchen itself distributes the meals directly to each house to avoid crowds.
Previously, President Joko "Jokowi" Widodo has urged ministers to pay close attention to the Food and Agriculture Organization (FAO) warning about potential shortages, or even a world food crisis, due to the COVID-19 pandemic. On the other hand, pressure in the food supply chain due to COVID-19 is still minimal, reffering to the official website of the FAO. However, there are challenges ahead in the logistics flow. This is also because the distribution of food needs to operate without restrictions, and in accordance with existing food safety standards.