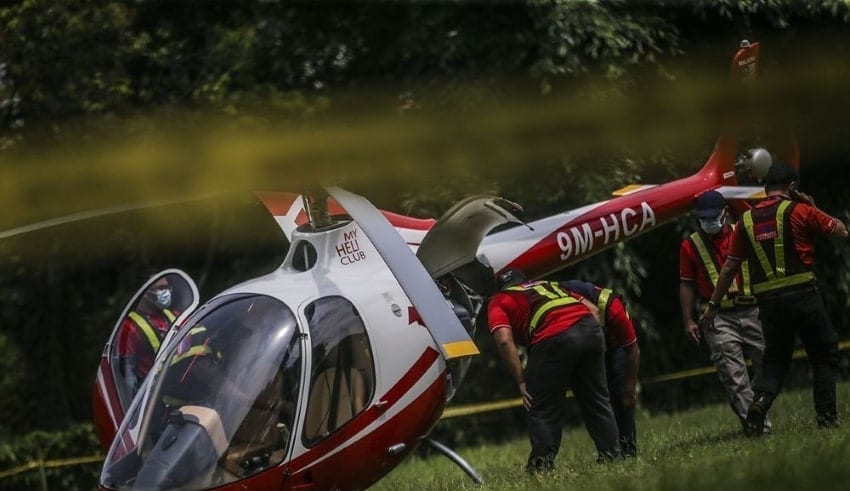 KUALA LUMPUR – Former Malaysia Airlines Bhd (MAS) group chief executive officer Datuk Ahmad Jauhari Yahya was confirmed to be one of the two survivors of a helicopter crash that killed two individual.
According to Ampang Jaya OCPD Asst Comm Mohamad Farouk Esha, Jauhari and another passenger named Tan Chai Eian survived the crash while My Heli Club's captain and chief flying instructor, Commander (Rtd) Mohamed Sabri Baharom and Mohamad Ifwan Rawi died in the incident.
The Fire and Rescue Department confirmed yesterday that that two helicopters collided mid-air causing it to crash in Melawati.
The department's operations centre head Zulfikar Jaffar said in a statement that one female and three male victims were involved in the incident, two were confirmed dead.
The two helicopter involved were confirmed to be a Heli Cabri 9M-HCB and the Heli Cabri 9M-HCA.
Mohamad Farouk said that two pilots flying the Heli Cabri 9M-HCB died instantly while the two pilots who were flying the Heli Cabri 9M-HCA only sustained minor injuries. Both were flying from Genting Sempah to the Subang Air Base.
Transport Minister Datuk Seri Wee Ka Siong revealed that the helicopters had been involved in the flight training session.
One helicopter crashed while the other was able to made an emergency landing at a Melawati field. The Kuala Lumpur Aeronautical Rescue Coordination Centre (KL ARCC) has been called to do the rescue and recovery efforts. Aircraft Accident and Incident Investigation, International Civil Aviation Organisation (ICAO Annex 13) has also been tasked by the government and will submit an investigation report within 30 days from the date of the air accident.