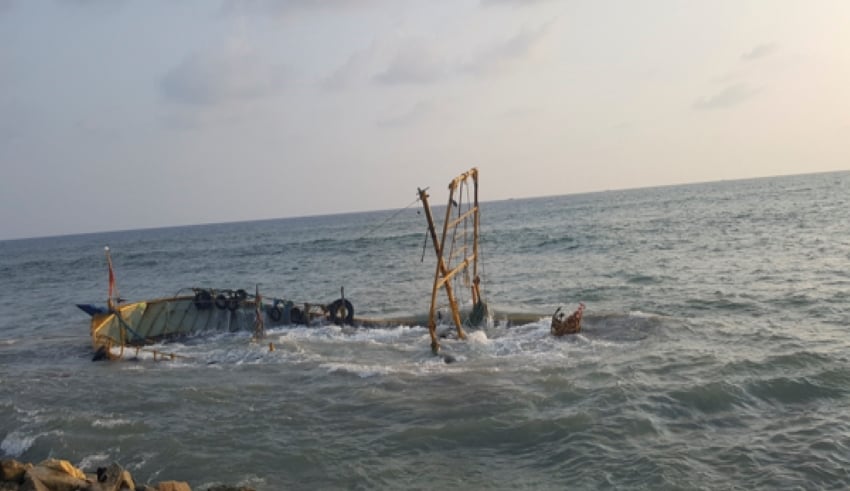 Motorboat (KM) Puspita Jaya with 16 passengers reportedly drowned in the Sunda Strait Waters or around Mount Anak Krakatau, Thursday, June 18.
As a result of the incident, 10 people were reported missing. While six others survived.
"The ship sank in the waters of the Sunda Strait with 16 passengers. Six survived and 10 others are still in search of a combined SAR team," said Head of Basarnas Banten, M. Zaenal Arifin, through his short message, Friday, June 19.
They departed from the people's harbor in Teluk Village, Labuan District, Pandeglang Regency, Banten with the aim of Rakata Island to look for tuna fish on Thursday, June 18 around 08.00 WIB.
Head of National Search and Rescue Agency (Basarnas) Banten, Muhamad Zaenal Arifin said, initially at 08.00 WIB the fishermen left for the sea to catch fish and at 17.00 WIB suddenly the ship was hit by waves on the right causing the boat to tilt and overturn.
After their boat capsized, the fishermen intended to escape to Rakata Island, but due to fatigue 6 fishermen finally decided to return to the overturned boat while 10 others were unknown and still missing.
"Yes, they had caught the fish first because from eight o'clock they left, and in the afternoon they were hit. For the obstacles of the waves, the height of the waves is 1 to 2 meters, "said Zaenal, Saturday, June 20.
The search for 10 crew members of the Puspita Jaya KM who sank in the waters of the Sunda Strait in Pandeglang Regency, Banten was hampered by the waves.
Before being picked up by the combined SAR Team, six fishermen whose ships sank in the Sunda Strait were rescued by a US-flagged cruise ship. The ship named Eurodam happened to be passing near Mount Anak Krakatau (GAK).
Cruise crew unload their boats, then pick up fishermen who are adrift from Thursday to Friday, 18-19 June 2020.
Cruise ship crews then report the incident to the Central Basarnas which continues to report the incident to Banten Basarnas.
Search operations for the remaining crew of the ship sank in the Sunda Strait have been carried out since Friday night until today, Saturday, June 20.
The search location was expanded, around the waters of Rakata Island, Ular Island, and Sangiang Island.
The KM Puspita Jaya Ship captain, Surya, who survived, said that he and other fishermen were adrift in the sea before being rescued.
"Floating in the sea from five in the afternoon to five in the afternoon, there are 16 people on board, the destination is going to Rakata," he concluded.