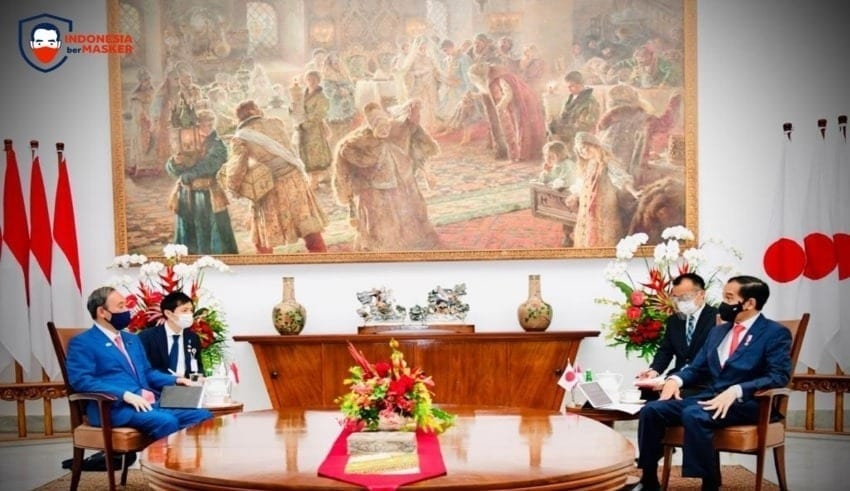 (C) Joko Widodo / Twitter
Japan and Indonesia have agreed to strengthen their security relations by expediting talks on the export of Japanese defense technology and consulting their defense ministers and foreign ministers in the near future.
As Japanese Prime Minister Yoshihide Suga met Indonesian President Joko Widodo at the presidential palace in Bogor, south of Jakarta, this reflects concerns about increasing Chinese regional assertiveness.
Di tengah dunia yang diwarnai ketidakpastian, kunjungan PM Jepang Bapak Yoshihide Suga ke Indonesia menunjukkan bahwa kita memilih untuk bekerja sama dan saling mendukung.

Dalam pertemuan kemarin, kami membahas kerja sama, dari soal pengelolaan pandemi sampai masalah ekonomi. pic.twitter.com/ov0LNMDv9Q

— Joko Widodo (@jokowi) October 21, 2020
Mr. Suga, the first foreign leader to visit Indonesia since the pandemic of Covid-19, was greeted with a 19-gun salute. He came from Vietnam, and the Japanese diplomats said the four-day trip was intended to symbolize Japan's continued commitment to and support for Asean.
While regarded as a greenhorn in foreign affairs, Mr. Suga follows in the footsteps of his predecessor, Shinzo Abe, who first visited Vietnam and Indonesia after becoming prime minister in December 2012. A key goal for Mr Suga is to cement Asean 's support for the Free and Open Indo-Pacific vision of Japan, which he stressed on Tuesday was aligned with the Indonesia-pioneered Asean Outlook on the Indo-Pacific.
The Asean initiative is based on values such as openness and respect for international law, with the regional bloc "being an honest broker of competing interests within the strategic climate. Mr. Suga told a news conference, with Mr. Joko beside him, that under the so-called two-plus-two system, their defense and foreign ministers will meet in the near future.
This will be the first meeting between the ministers since 2015, and Indonesia is the only "two-plus-two" deal Japan has with the Asean country.
In the sense of the increasingly sharp rivalries between the world's great powers Mr Joko said that closer cooperation between Japan and Indonesia was crucial, alluding to the intensifying clash between the United States and China.