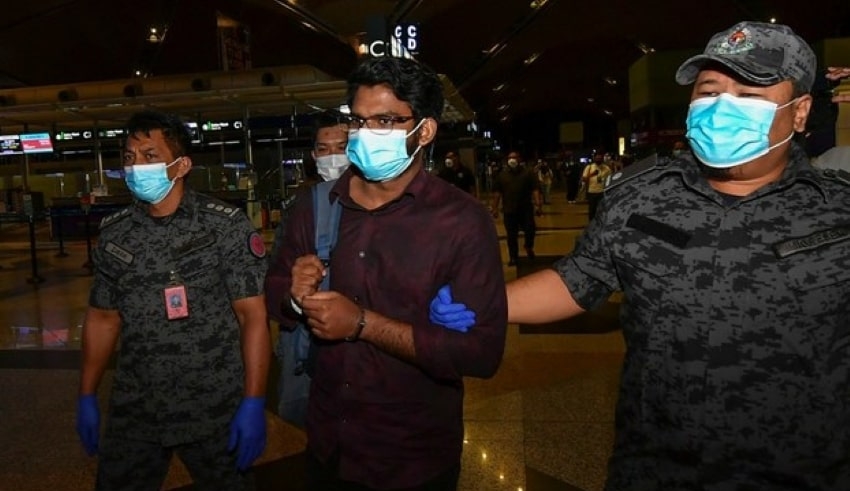 PETALING JAYA – Bangladeshi national, Md Rayhan Kabir, who appeared in the Al Jazeera documentary titled "Locked Up in Malaysia's Lockdown" has been deported last night.
He was brought to the Kuala Lumpur International Airport (KLIA) by the immigration officers after being detained for almost a month for his appearance on the controversial documentary where he spoked about the alleged mistreatment of immigrant, foreign workers by the authorities.
Md Rayhan, 25, landed in Dhaka on Saturday carrying a sling bag managed, managed to give a thumbs-up sign to the members of the press before heading to the immigration counter.
According to Immigration director-general Datuk Khairul Dzaimee Daud, Md Rayhan has been deported to his country after they completed the police investigation. They have also cancelled his working permit and will be blacklisted in Malaysia forever.
He also reported that Covid-19 test was also conducted on Rayhan and the results were negative.
The Bangladeshi government was able to facilitate the flight arrangement of Rayhan and was able to secure a ticket late Wednesday.
Rayhan's father welcomed his son's while also thanking the Malaysian government for sending him back and treating well in the process.
However, he defended Rayhan saying he did not commit any crime and he's just telling the truth.
The Malaysian government called Rayhan's allegations "baseless" and the documentary was likely to tarnish the country's image and reputation.
Home Minister Hamzah Zainuddin said that under the constitution, the government can take action on foreigner who they feel is unwanted in the country. "We can send anyone back who is not wanted here. He is unwanted." He added.