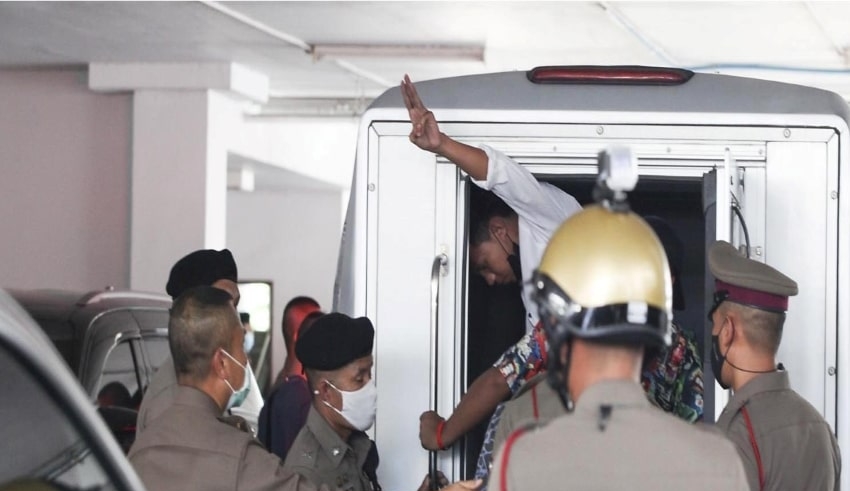 Chief Pol Gen Chakthip Chaijinda said police officers had no choice but to uphold the law and arrest leaders of youth protests this week. Pol Gen Chakthip said police officers are required to make the arrests because the leaders of the protest broke the law.
Failure to act against the members would result in police being charged with dereliction of duty under Section 157 of the Criminal Code, he said, adding that he's advised officers to maintain neutrality and avoid taking sides between two youth protest groups. Pol Gen Chakthip made the remark after a House committee reviewing the budget bill for next year asked him about the arrests yesterday.
The Criminal Court accepted bail applications for nine of the protesters, including the human rights lawyer Arnon Nampa and two rappers. They were arrested for their involvement in the July 18 and Aug 3 protests yesterday and Wednesday.
The court required them to refrain from committing the same offences until their demands were accepted. The court also allowed politicians and educators, including three Move Forward Party MPs, two Pheu Thai Party MPs and four academics, to serve as guarants. Five more suspects were arrested Thursday, including two more rappers.
Four people were arrested, including Mr Arnon, who was the first person to be detained in that arrest round. Mr Arnon, who was released on bail on several charges, including sedition in connection with the rally, faces further charges in connection with the rally on Aug 3 when he spoke of the need to abolish the monarchy.
The officers had rejected bail for the human rights lawyer, citing the suspected propensity of Mr Arnon to incite protests. Pol Col Kissana Phathanacharoen, the Royal Thai Police deputy spokesman, said police issued arrest warrants for 21 Free Youth demonstrators who broke the law during their three anti-government rallies.
Related Article: https://www.theasianaffairs.com/thailand/2020/08/15/call-to-withstand-pressure-allow-rallies-to-show-democracy-advocates-needs-to-be-heard/