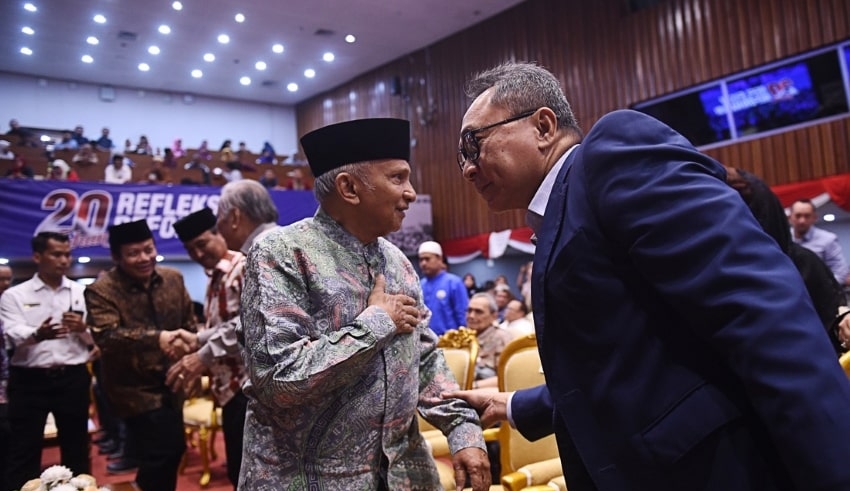 Former National Mandate Party (PAN) patron Amien Rais, a staunch critic of the administration of President Joko "Jokowi" Widodo, after his departure in the midst of an internal split within the PAN, announced his newly formed party called Partai Ummat, or the Ummah Party. Amien declared the new party via a broadcast on Amien Rais Official, his Youtube channel.
Amien, a key figure in the 1998 reform movement against former President Soeharto and the founder of the PAN, went on to say that a nation could be zalim (cruel) to its citizens in terms of political , economic , social, legal, and human rights, with all its power, so that it would need a citizens-sided government.
In fact, Amien was in a tug-of – war over support for Jokowi 's administration with other PAN politicians. The party endorsed Jokowi's contender, Gerindra Party Chairman Prabowo Subianto, in the 2019 presidential elections. Prabowo now serves as Jokowi's minister of defense, and the governing coalition has also joined his side.
PAN Chairman Zulkifli Hasan met with Jokowi several times to discuss, much to Amien 's dismay, the prospect of PAN joining the coalition. Morever, The party is currently outside the government alliance, however. After the election ended, the inner split within the party began.
Hanafi Rais, Amien 's son, decided to resign from the party and gave up his position as a lawmaker and chairman of the House PAN faction. He claimed that the party lacked progress, lambasting the party, when it was supposed to be in opposition, for tending to support the government.