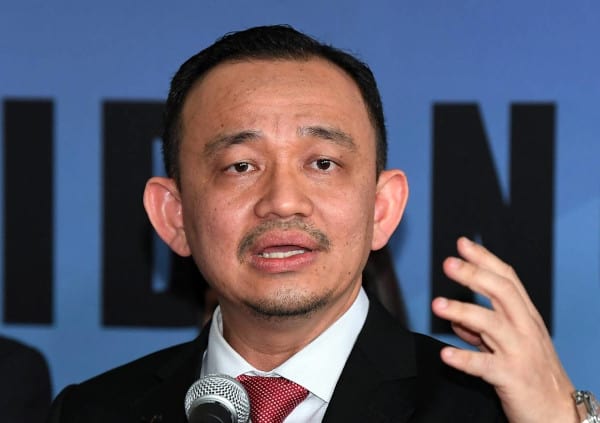 Many have asked about my personal stand in this crisis with some even calling me a blind follower, or 'lalang' following the winds of change.
I fully acknowledge that I was toeing the party line and was loyal to my President up until the very moment he left the Palace. I tried my best to be a 'party-man', although while in PPBM I was often admonished for not being a team-player and being bad at 'politics'.
But as I sat there in Tan Sri Muhyiddin's house with UMNO leaders, I felt a deep heaviness in my heart. My conscience weighed heavily on me. These were men whom I knew were involved in corruption. I had personally encountered these cases, some of which had not yet been revealed to the public. As Minister I had inherited so many cases from abuse of power to corruption and fraud. The amount of money stolen was staggering, it is an amount that many Malaysians will never see in their entire lifetimes. What's worse was this money was meant for the children and for all Malaysians. From the poorest and most marginalized of children to vulnerable and disenfranchised workers – I was still trying to clean up this mess after nearly two years of being in office.
So I asked myself, can I accept these people? The very people whom the rakyat had voted against and who had yet to face justice? The answer was no, I simply cannot and must not accept them.
My family, friends, voters from Simpang Renggam and supporters came in streams pleading with me in one voice, "Please don't betray the rakyat, don't let our sacrifices go in vain" and I prayed to Allah asking for His guidance.
At 4pm yesterday, my conscience was clear. Although as a 'party-man' I had initially supported Tan Sri Muhyiddin, ultimately, I simply could not let down the people who had faith in me.
The rakyat has clearly decided in the last General Elections and that decision needs to be upheld and respected.
Clearly, they did not vote for an UMNO-BN regime. Clearly, they are fully against a kleptocratic regime ridden with corruption.
Given the choice between loyalty and principles, I stand by my principles. It was one of the most difficult decisions that I have ever had to make, but principles will always prevail and I stand by the people that have stood by me.
To my family, friends, voters and supporters, I stand by you with all of my heart.
I know who I am, I know why I joined politics and I will never forget why I was voted in by the people of Simpang Renggam. If I were to be with this new regime I would have disappointed everyone who made sacrifices to help Pakatan Harapan succeed.
My decision is final, the nation's needs comes first – above any political machinations or grasp for power.
As a normal human being, I concede to the fact at times that I might have erred, but I will never ever put aside my love for this country .
We remain a Government of the people and by the people. We must keep fighting for our principles. We must fight for our nation.
YB Dr Maszlee Malik
Member of Parliament, Simpang Renggam
1st March 2020