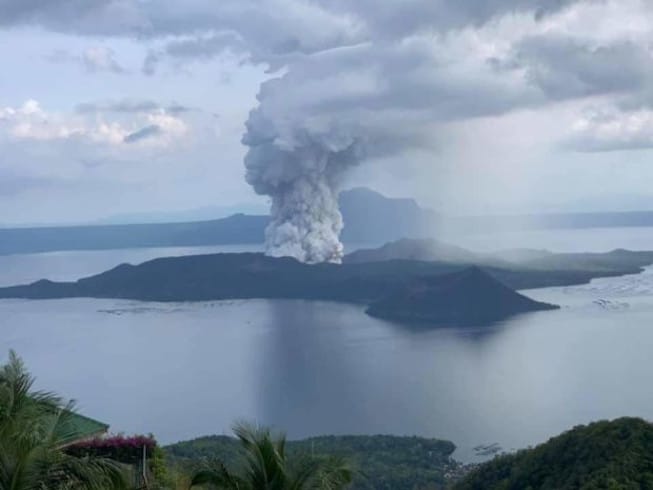 The Philippine Institute of Volcanology and Seismology reduced Taal Volcano's alert-level status to Alert Level 2, as metrics have consistently shown its decreased unrest in recent weeks.
After graduating from Alert Level 3 on 26 January 2020, the state of Taal Volcano in the following three weeks was characterized by less regular volcanic earthquake activity, stabilizing ground deformation of the Taal Caldera and Taal Volcano Island houses, and low steam or gas emissions at the Main Crater.
Taal Volcano initially spewed a kilometer-high ash plume on January 12, and an imminent dangerous eruption had since been expected— prompting residents ' mass evacuations from the main crater within a radius of 14 kilometres.
Two weeks later the status of the volcano has been downgraded from Alert Level 4 to Alert Level 3. Displaced people were already permitted to return to their homes outside the seven kilometer danger zone.
Despite the scaling down of the Taal level to Alert Level 2, PHIVOLCS confirmed that the island of Taal Volcano — a permanent danger zone — will remain off limits.
Alert Level 2 means that unrest has decreased but it should not be perceived that unrest has ended or that the danger of an eruption has vanished, "he pointed out. According to PHIVOLCS, there is still a potential to increase the alert level should there be an uptrend.
Local government units are advised to further evaluate previously evacuated areas for damage and road accessibility within the seven-kilometer radius, and to improve preparedness, readiness and coordination steps in the event of renewed unrest.
People living along active river channels with thick volcanic ash deposits from Taal's earlier eruption were advised to be alert about potential lahar flow when strong and sustained rainfall occurs.
Due to the risks of airborne debris and projectile fragments from sudden explosions and wind-remobilized lava, aircraft must also avoid flying close to the volcano.