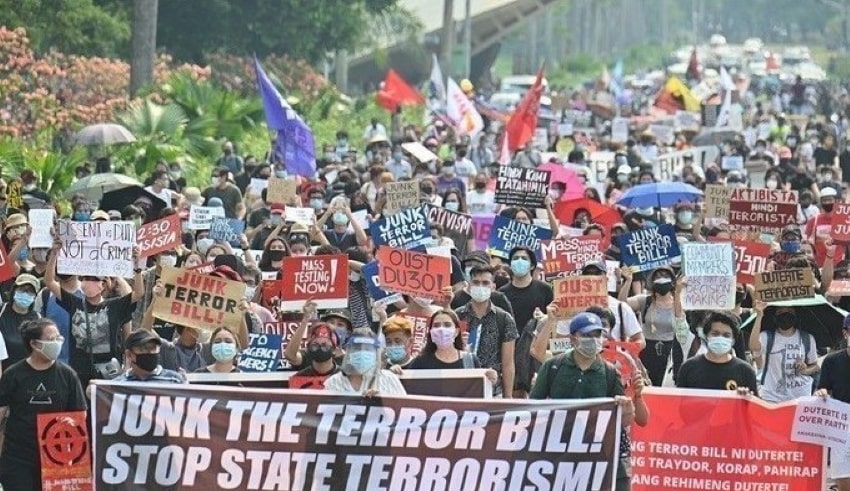 The party of eight lawyers who will make oral arguments next week on behalf of the 37 petitioners against the anti-terrorism legislation will be headed by former Solicitor General Jose Anselmo Cadiz.
In fact, in line with the order of the Supreme Court, the petitioners sent a joint statement telling the court of eight lawyers who will argue on six clusters of issues in 37 petitions challenging the constitutionality of the Republic Act 11479 or the 2020 Anti-Terrorism Act.
The oral arguments will take place on 19 January, more than six months after the contentious bill was signed by President Rodrigo Duterte. Two Aetas have been prosecuted with alleged breach of the law since the enactment of the law, and the Anti-Money Laundering Council has been allowed to seize properties linked to the Communist Party of the Philippines and the New Peoples' Army, identified as terrorists by the Anti-Terrorism Council.
Representing the government officials identified as respondents, the petitioners and Solicitor General Jose Calida are given 45 minutes each to make their cases. Former SolgenCadiz and attorneys Chel Diokno and Alfredo Molo III will question whether the petitioners have legal standing to sue and whether there is an actual and judicial dispute between the petitions. They would also answer arguments that terrorism-defining Section 4 is invalid for vagueness or over-broadness.
In view of this, Cadiz acts as legal counsel for the Philippines' Organized Bar, while Diokno, founder of the Free Legal Assistance Association, advises opposition politicians, constitutional framers, civil rights lawyers and journalists. In the meantime, Molo acts as legal counsel for the College of Law Faculty of the University of the Philippines, and former SC Justices Antonio Carpio and Conchita Carpio-Moral.
The three would contend that a provisional restraining order or a status quo ante order should be issued, the urgent relief requested by a majority of petitioners from the court, and RA 11479 should be ruled unconstitutional in its entirety if SC considers that the concept of terrorism is constitutionally infirm under Section 4 and the powers of the Anti-Terrorism Council.
Morever, A majority of the petitioners had requested the SC to impose a Provisional Restraining Order or Status Quo Ante Order to bar the government months before the oral arguments from enforcing the legislation.