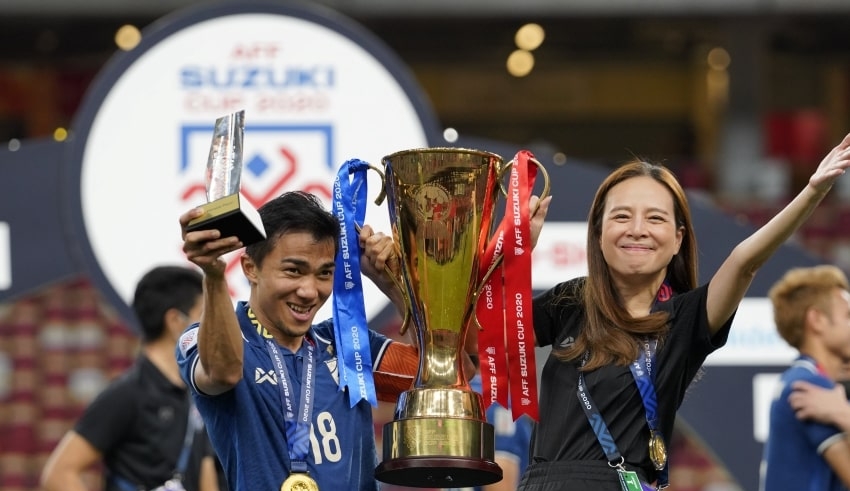 ASEAN – In a record-breaking sixth time, Thailand has won the ASEAN Football Federation Championship or AFF Cup.
Indonesia held 'The Elephants' to a 2-2 draw in the second leg of the Asian Cup finals at the Singapore National Stadium tonight, but the team from Malaysia, who smashed 'The Garuda' 4-0 in the first leg on Wednesday (Dec 29), won an astonishing 6-2 aggregate win.
Indonesia came out with greater aggression this time around, and a low drive from beyond the box by midfielder Ricky Kambuaya in the seventh minute gave South Korean coach Shin Tae-yong's team a 1-0 advantage.
When Teerasil Dangda had a good opportunity to equalize for Thailand late in the first half, he wasted it by hitting the crossbar with a right-footed effort from within the box. Thailand went on to lose the match 2-1.
The team of Brazilian-German coach Alexandre Polking, on the other hand, stepped up their game in the second half and earned a well-deserved lead with two goals in rapid succession.
About last night…🇹🇭🏆🥇#AFFSuzukiCup2020 | #RivalriesNeverDie pic.twitter.com/4LgtmjVQlV

— AFF Suzuki Cup (@affsuzukicup) January 2, 2022
After Adisak Kraison came on to replace Teerasil, his team was level in the 54th minute when he tucked in a free kick from beyond the area. Sarach Yooyen's free kick from outside the box made it 2-1 two minutes later.
Related Posts
Egy Maulana Vikri got one back for Indonesia with a tight-angled goal from the left side of the field in the 80th minute to tie the score, but it was too little, too late for them to launch a comeback at that stage.
As champions of the inaugural AFF Cup in 1996, Thailand went on to win four more championships in the following decade, in 2000, 2002 and 2014 and 2016, respectively. Indonesia, on the other hand, has been unable to break their finals 'curse,' having finished as runners-up on only five occasions, in 2000, 2002, 2004, 2010 and 2016.