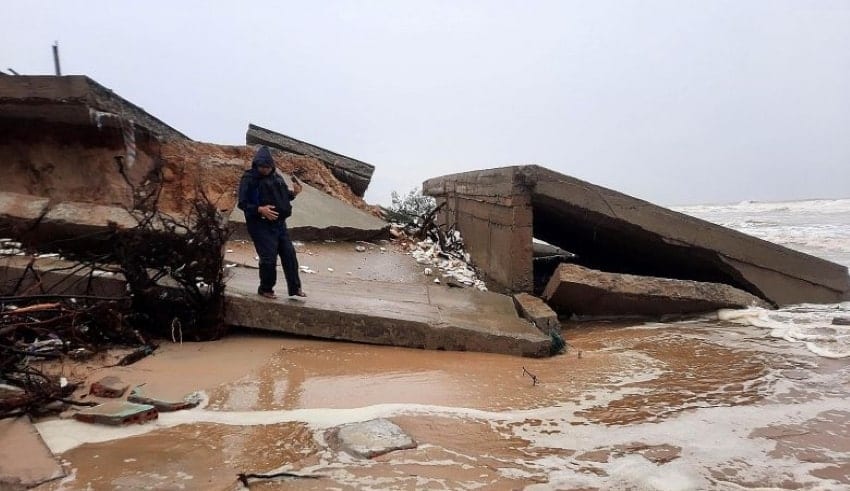 The Typhoon Vamco unexpectedly barrelled into Vietnam, destroying buildings and injuring at least five people. In view of this, the storm made landfall with winds of up to 90kmh uprooting trees and tearing the roofs off houses and schools.
Talking about this, Vamco is the latest in a string of storms over the past six weeks that have pummeled Vietnam, causing floods and landslides that have killed at least 159 people and left 70 more missing. For this reason, early reports from the Emergency Management Authority said that five individuals were wounded while attempting to protect their homes. It has weakened with winds of up to 155kmh since reaching the Philippines as a typhoon, but state media shared it had still inflicted severe damage.
In the tourist hotspot of Hoi An a UNESCO world heritage site, seafront restaurants torn apart by the wind, and massive trees uprooted in the old imperial town of Hue. Some of the worst floods in years, swamping towns, killing crops and leaving hundreds of thousands without electricity, were exacerbated by the hurricane.
On the other hand, The relief teams and emergency supplies including food were sent to the northeastern Philippines where swathes of the area were flooded. Via the release of water from a dam, the situation was made worse.
We arrived Cagayan this morning. Our team arrived a few hours earlier with supplies. Situation is so much better. Many areas still flooded but water receded already.

— Leni Robredo (@lenirobredo) November 15, 2020
Vice-President Leni Robredo shared that after visiting Cagayan province, the waters were now receding, offering hope that the worst could be over for the storm-battered region. While in Vietnam, weeks of harsh weather have damaged or demolished more than 400,000 houses, according to the International Federation of Red Cross and Red Crescent Societies. Consequently, The roads and bridges have been swept out, electricity sources have been broken and essential food crops have been lost, leaving at least 150,000 people at imminent risk of food shortages