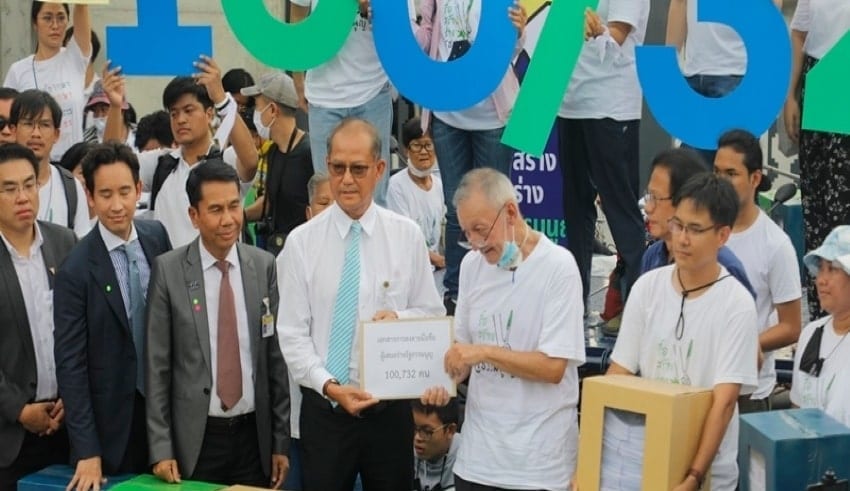 The bill to change the charter introduced by the Internet Law Reform Dialogue (iLaw) is the least likely of seven bills to make it through parliament, although it is the most controversial.
Any senators could also not show up for the first-reading vote on the seven drafts as they fear there may be tensions between anti-government demonstrators and pro-government backers who are both preparing to converge during the session outside parliament.
The source added that members of the alliance are expected to vote in theory for the reform of the charter, endorsing the drafts presented by the government and opposition parties. Both camps also decided to fix Section 256 of the Charter to enable a charter drafting assembly to be set up.
Nevertheless, discussion on the iLaw edition is poised to divide the legislators. Before continuing to vote in the first reading, one side is required to prefer hearing iLaw's members respond to questions about its plan. However other senators may refrain from casting their first reading votes for the draft of the iLaw, calling it problematic in many ways, including the suggested elimination of autonomous agencies.
Ahead of this week's discussion, a key element of the anti-government movement, the Unified Front of Thammasat and Protest, yesterday posted on its social media page for a decision to stage a rally outside parliament and stay there until the iLaw draft is in principle accepted.
Another anti-government party, Free Kids, has used its page to hail the iLaw draft for having eventually found its way to parliament after more than a month of wait. Mr Boonpattarasaksa led the party in urging their followers to meet outside parliament to witness the discussion.
Step Forward Party list MP Teerajchai Phunthumas said he saw no reason why the 100,000 signature-backed iLaw draft did not pass its first reading and expressed fear that if it were voted down at this early juncture, it would only fuel the present political fight. The MPs of his party would work to ensure adequate support for the draft to pass into the second round.
Meanwhile, Sutin Klungsang, the leading opposition whip and Pheu Thai MP, said his party would call a meeting on Monday to determine whether or not its MPs could vote in favor of or against each draft.
He shared that unless iLaw's ideas appeared to be politically unfeasible, in a second reading, parliament should want to give them further scrutiny. However, Palang Pracharath Party list-MP Paiboon Nititawan voiced reservations about the iLaw draft's intended material.