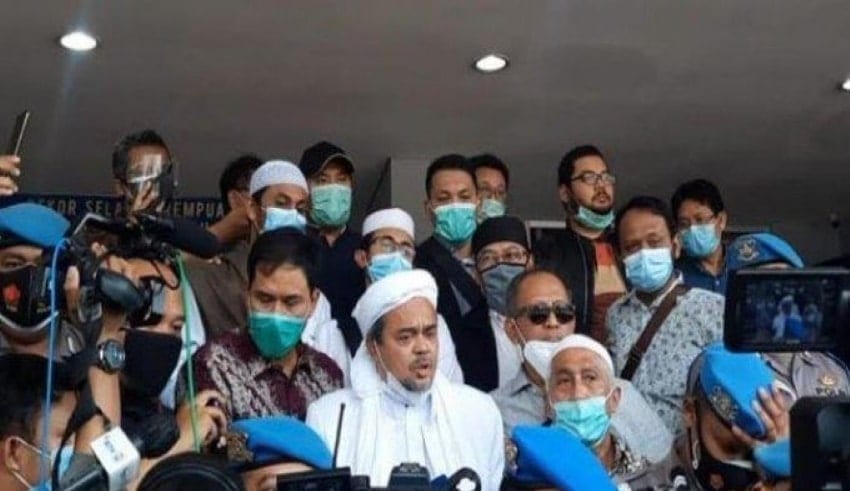 Islam Defenders Front chief Habib Rizieq Shihab shared that he would go to the headquarters of the Jakarta Metropolitan Police to answer the police's summons on the alleged violation of the health protocol.
Shihab, has recently lost six of his guards who were killed earlier this week. He cleared that he had never fled or gotten out of the legal process, even though he had to rest in order to recover fully from his health.
During the events at his home and FPI headquarters in Jakarta last month, Shihab was hinted to be a suspect with five other individuals on grounds of breach of health protocols. While the other five suspects are Haris Ubaidillah, head of the event organizing committee, Ali bin Alwi Alatas, secretary of the event organizing committee, Maman Suryadii, FPI commander in charge of security affairs.
The Jakarta Metropolitan Police get the attention of government agencies to enforce travel bans of 20 days on Shihab and five others to prohibit them from traveling abroad. Along with this is presenting good manners to the Shihab situation knowing in the case of this well-respected FPI chief, the Indonesian Ulema Council (MUI) urged for the implementation of equal law enforcement to prevent any offense to the public sense of justice in communities.
The decision of the police to name Shihab as a suspect in the holding of events that led to the congregation of people as a violation of health protocols must represent the use of law as an instrument to prove.
Abbas highlighter that law enforcement against Shihab and his men must also be done reasonably and equally on other community members found to violate the government's COVID-19 protocols in the country in cases of conducting crowd-drawing events.
Meanwhile, The Chief Inspector General Fadil Imran of the Jakarta Metropolitan Police updated that on-duty police investigation officers had shot to death six FPI leader guards for assaulting them.
Through this, The incident took place on the Jakarta-Cikampek KM 50 Toll Road which was unveiled by Imran. Consequently, The incident occurred while officers were researching details on a possible mass mobilization for which Shihab would face questioning by the Jakarta Police.
In fact, During his daughter's wedding, which coincided with the maulid (the birthday of the Prophet Muhammad celebration), the Jakarta Police summoned Shihab for allegedly breaching COVID-19 health protocols, leading to crowding.
However on the grounds that they were unarmed, the FPI refuted reports of its members having assaulted police officers. On the other hand, Munarman asserted, instead that the fatal shooting was an extrajudicial killing. He therefore urged the facts behind the incident to be revealed by establishing an independent fact-finding team involving the Indonesian National Human Rights Commission.