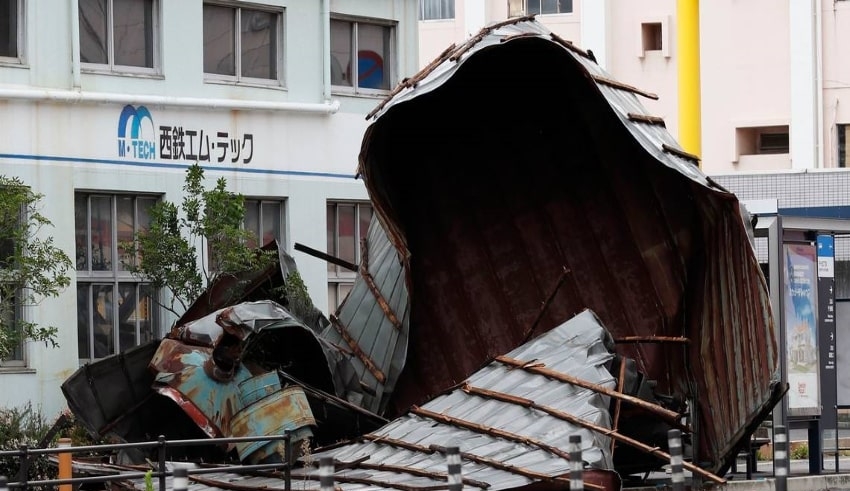 Here's an unexpected strong typhoon that lashed South Korea after crashing into southern Japan with record winds and heavy rains that left four people missing in a landslide. Half a million people were powerless after Typhoon Haishen roared past the southernmost main island of Kyushu in Japan, ripping off the roofs and dumping half a meter of water in just one day. Rescue workers were picking through mud.
Head Cabinet Secretary Yoshihide Suga told reporters in Tokyo that hundreds of police officers were on their way to help. During the storm, he said at least two more deaths had been confirmed, although the reasons were not immediately clear. Haishen, who came on the heels of another strong typhoon, crashed Saturday into Okinawa and pushed north all Sunday.
The system had passed over South Korea by lunchtime Monday, causing hundreds of flights to be cancelled, and triggering landslides. In and around Busan, traffic lights and trees were felled, streets were flooded and thousands of homes were power-knocked out. Haishen went up the eastern side of the peninsula into the Japanese Sea, known in Korea as the East Bay, having lost his way.
According to South Korea's Meteorological Administration, Haishen was forecast to landfall again in Chongjin, North Hamgyong Province in North Korea, at about midnight. North Korea also reels at Typhoon Maysak 's impact last week.
Over the weekend Leader Kim Jong Un appeared in state media, where he was seen to inspect the damage. He also sacked a top official from South Hamgyong in the province. He ordered 12,000 members of the ruling party to help with recovery efforts in Pyongyang, and the official KCNA news agency reported on Monday that around 300,000 had responded to his call.
State media in the North have yet to specify how many people Maysak has left missing, injured or dead.