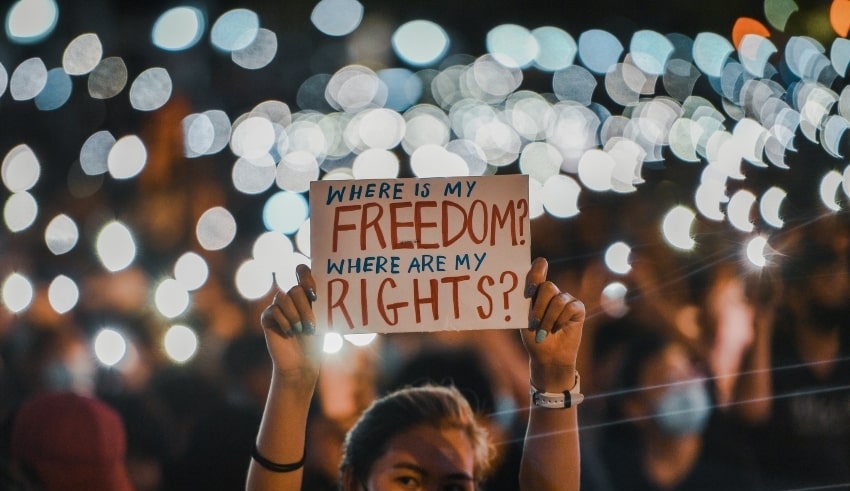 (C) Chalinee Thirasupa / Twitter
The youth-led protests started with three demands: dissolution of the House, constitutional amendment and an end to state critics' intimidation. Later, at the Thammasat meeting on 10 August, a 10-point plan to reform the monarchy was announced, stirring even more confusion in an already fragmented Thai political arena.
The Free Youth group grew into the Free Citizens party and on Aug 16 more than 10,000 people entered the Democracy Monument rally. Their frequent appeals attracted warnings and criticism from those who insist policy must be kept away from classrooms.
It is important to protect the country, religions and monarchy, argue those against the rallies, many of whom have shared pictures and articles on contributions of the late monarchs, particularly His Majesty King Bhumibol Adulyadej The Great.
Whereas, the younger generation, and those in favor of the Free People movement, mark their opponents as racists, many of whom come from older age groups. A war of words has exploded on social media in particular. In the past week eyebrows have been raised again as anti-establishment practices have risen to even higher levels with the three-finger salute and the use of white ribbons occurring in many schools around the country.
Arthitaya Pronprom, 18, Mahidol University's chief of political rallies, said in her view politics is the business of everyone. Everyone's voice should be equal and everyone should have an equal opportunity to have their opinion heard. But, in Thailand, students and teens are being targeted by older members of society who claim we are politically ignorant or brainwashed, she said.
Ms Arthitaya added many of the older generation prefer to escape robust face-to – face debates by shifting the subject or throwing light on it, while she and her peers are more likely to speak out about what they see as injustice or mistreatment.
Related Article: https://www.theasianaffairs.com/thailand/2020/08/24/majority-approve-with-the-demands-of-the-free-people-group-regarding-their-democratic-principles/