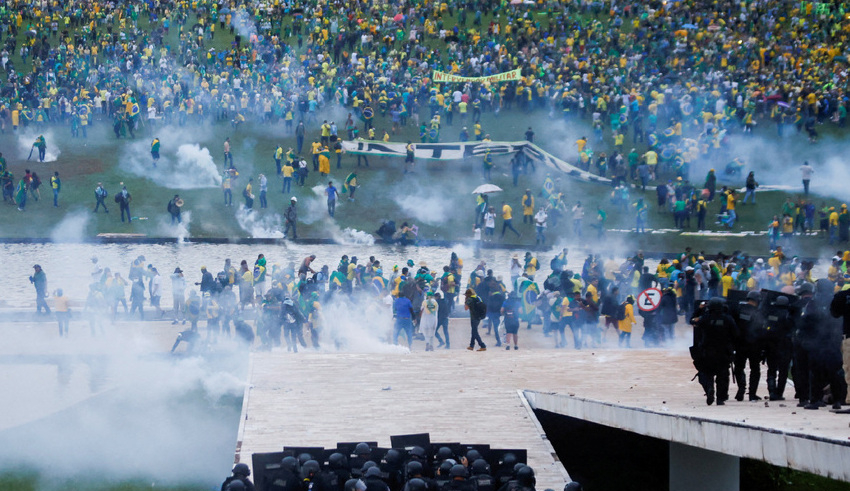 An study by Aos Fatos discovered that pro-Bolsonaro terrorists profited from the invasion of Brazil's Congress, presidential palace, and Supreme Court by streaming the act on YouTube. Despite the platform's regulation prohibiting "material intended to laud, promote, or help violent extremist or criminal organizations," radicals may live-stream demonstrations and use the footage to solicit payments from fans.
Aos Fatos investigated 47 pieces of live footage of the event on YouTube and discovered that at least 23 of them were monetized in some way.
These videos garnered over 300,000 views and depicted Bolsonaro supporters destroying buildings in Braslia and attacking police officers there to regulate the riots. Some YouTube users merely reposted content from other websites, whilst others actively participated in the invasion. The channel owners have removed a number of recordings depicting the attack.
In addition to donations, sixteen channels that broadcast the terrorist actions saw an increase in viewers. In the brief hours the invasion lasted, one of them went from 106,000 to 112,000 subscribers.
Keep Reading
YouTube informed Aos Fatos that it is monitoring the situation and eliminating information that violates its terms of service, such as live streaming and films that incite violence. Additionally, the platform stated that it has begun to prominently feature content from reputable sources on its homepage, in searches, and in recommendations.
Bishop Santana is the proprietor of a channel with 579 thousand subscribers. He was not present, but he solicited contributions using pix, Brazil's instant-payment system.
Adriano Castro is a past contestant on the Brazilian version of Big Brother. Known as Didi RedPill, he filmed the pro-Bolsonaro demonstrations in Braslia over the week, as well as the terrorist attacks on Sunday. His unmonetized video gained 223 thousand views and was replayed by creators who received donations.
The proprietor of the YouTube channel Barba Notcias marketed his videos by requesting photo donations. He documented his journey to the protesters, however he fled during the police confrontation.
Alex Moretti, a pro-Bolsonaro influencer who owns a verified channel with around 112 million cumulative views, also benefited from the invasion's YouTube broadcast. His video depicting the attack had 18,000 concurrent viewers, but Moretti removed it.