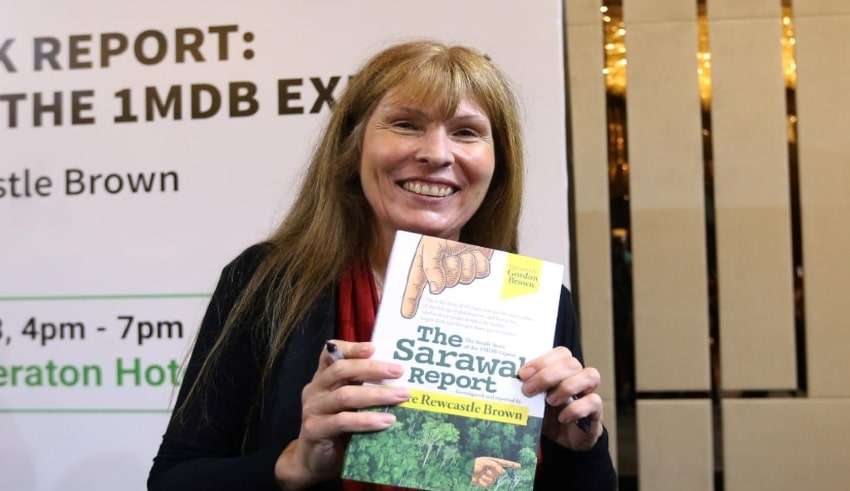 Clare Rewcastle-Brown, editor of the Sarawak Report, was prosecuted in absentia in Kuala Terengganu, the state capital of Terengganu, for allegedly criminally defaming the Terengganu Sultanah via the contents of a book on the 1MDB scandal.
According to some sources, Rewcastle-Brown was not present in court today, and she was also not represented in court either.
Related Posts
Rewcastle-Brown was charged with violating Section 500 of the Penal Code for allegedly defaming the Terengganu Sultanah through a passage on page three of his book The Sarawak Report: The Inside Story of the 1MDB Exposé that referenced "the Sultan's wife."
According to Section 500, criminal defamation carries a maximum sentence of two years in jail or a fine, or both.
The prosecution was led by Engku Ahmad Rashdi Engku Abdillah, director of the Terengganu state prosecution, and deputy public prosecutors Noor Haslinda Che Seman and Nadia Zulkefli.
This criminal case is set to be re-heard by Magistrate Nordiana Abd Aziz on November 23.
According to another report, the Terengganu Sultanah had previously filed a defamation lawsuit against Rewcastle-Brown, the latter's book publisher Gerakbudaya Enterprise, and printer Vinlin Press Sdn Bhd in the High Court of Kuala Lumpur in relation to the same book on November 21, 2018, in Kuala Lumpur.
The Terengganu Sultanah had filed a civil lawsuit against the three defendants in response to the contents of a paragraph on page three of the book. The Terengganu Sultanah had sought RM100 million in compensation from each of the three defendants, as well as an order that the book be withdrawn, and its printing be halted. On December 16, 17, 20, and 21, four witnesses, including the Terengganu Sultanah herself is expected to testify against Rewcastle-Brown and the other two defendants in a defamation lawsuit scheduled to be heard at the High Court in Kuala Lumpur.