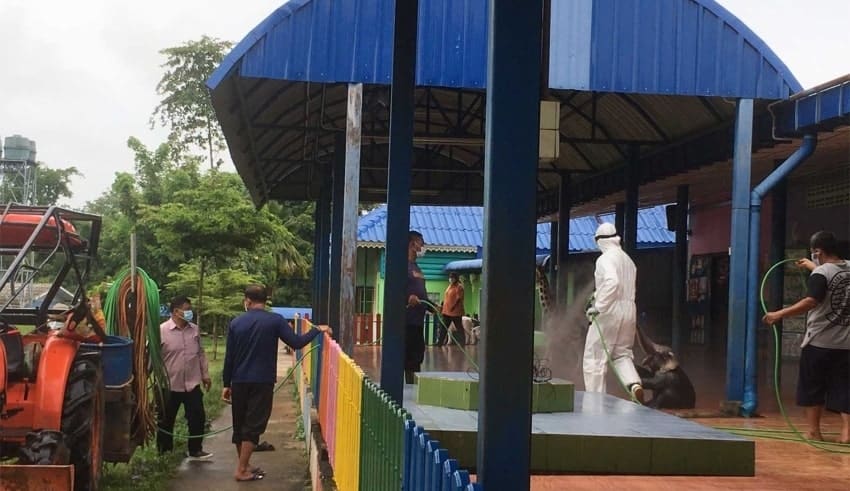 Three schools in two border provinces, Prachuap Khiri Khan and Kanchanaburi, were temporarily closed because of fears of the Covid-19 outbreak from neighboring Myanmar.
Students in Kanchanaburi came in close contact with illegal Myanmar border crossers who later fell ill and were hospitalized. The Ban Kui School in Thong Pha Phum was closed for three days and parents, teachers and volunteers started a major clean-up on Tuesday, beginning with the disinfection of the premises.
Anan School in tambon Huay Satyai and Ban Huay Khrai School in tambon Bueng Nakhon of Hua Hin issued letters to the parents of the students who announced classes were suspended from 1-7 Sept. The letters cited a fax message from the Ministry of the Interior regarding a coronavirus disease outbreak in Myanmar, where more than 580 cases of Covid-19 have been confirmed since August 16.
The two public schools are near the border with Myanmar and student family members reportedly sneaked across the border and back through natural crossings recently.
The letters have sparked panic among parents and other locals. They feared coronavirus disease could spread across border regions. Some residents mistakenly believed that a lockdown had been ordered by authorities in 10 provinces bordering Myanmar.
Prachuap Khiri Khan Governor Panlop Singhaseni said he had received a report on the closure of Anan School and the Ban Huay Khrai School from Hua Hin district authorities on Tuesday.
He said the communities included Thais and ethnic Karen and people from Myanmar who often crossed the border. Health officials have visited villages near the school recently to question residents about people's movements through natural border crossings.