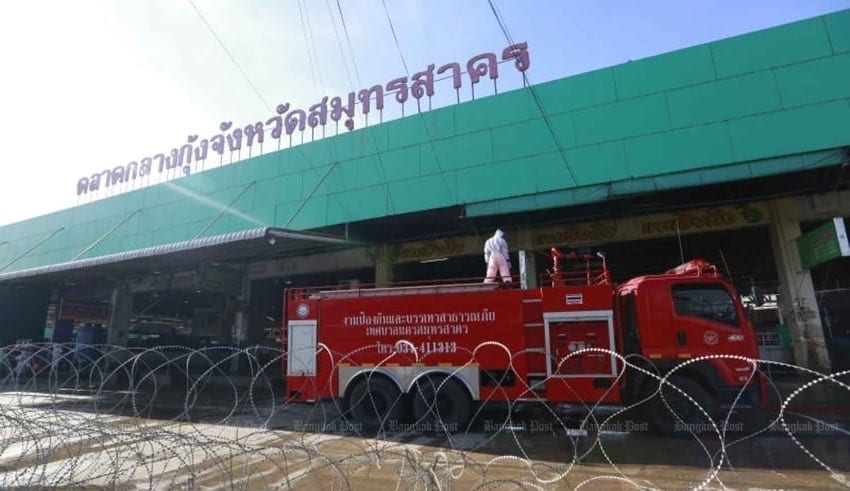 The Department of  Internal Trade of the Commerce Ministry is planning to extend help to shrimp farmers in order to curb the spread of Covid-19 in the wake of the 14-day lockdown in Samut Sakhon, a major seafood development center for seafood products.
Wattanasak Sur-iam the director-general of the department shared that there is a daily surplus of 100 tonnes of shrimp to be handled on the basis of talks with stakeholders, including health officials and others in the shrimp supply chain.
Shrimp farmers are worrying about where to market their goods after the lockdown in the province. Mr. Wattanasak said the DIT would pursue new markets to sell its goods to shrimp farmers and has pursued support from different parties, including the Thai Restaurant Association and discount supermarkets. He may also ask shrimp producers but they need to delay harvesting for the time being in order to prevent surpluses.
Poj Aramwattananont, president of the Thai Frozen Foods Association and vice president of the Thai Chamber of Commerce, said the shrimp market-related outbreak could cause demand to decline. In order to ensure that it would not destroy consumer trust, he encouraged all parties involved to foster awareness of the dissemination of the virus. For them finding markets for shrimp farmers will also help to stabilize costs, according to Mr Poj.
On the other hand, Vicharn Ingsrisawang, Deputy Director-General of the Department of Fisheries shared that when cooked properly, shrimp and seafood items are safe for consumption. He also highlighted what's crucial is that disease prevention precautions must be followed by people handling the goods.
The president of the Thai shrimp farmers, Kanchit Hemarak shared the influence of the current outbreak is still minimal and the association is checking the financial damage. In fact, The economic hit from the outbreak could be minimal, Thanavath Phonvichai, president of the University of the Thai Chamber of Commerce unless a national lockdown is approved and inforced.