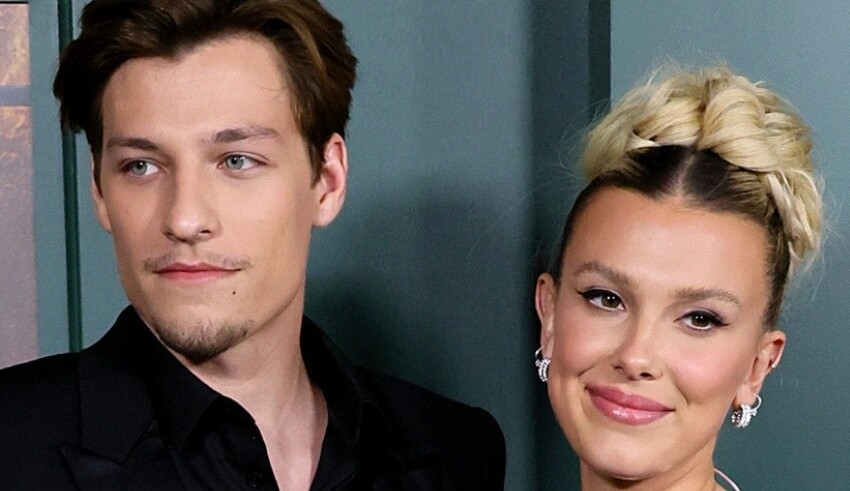 The well-known actress Millie Bobby Brown, best known for playing Eleven in the popular Netflix series "Stranger Things," has shocked Hollywood and her fan base by revealing a shocking news: she's engaged! The 21-year-old son of rock superstar Jon Bon Jovi, Jake Bongiovi, and the 20-year-old actress just announced their engagement, and the news has shocked and delighted fans alike.
Fans' comments erupted on social media, with mixed feelings of surprise, joy, and even worry for Brown's youth. The news shocked many fans since they still associate Brown with the endearing young child with otherworldly abilities from "Stranger Things." Twitter users who couldn't believe what they were reading posted messages such, "Wait, Millie Bobby Brown is engaged? Am I already that old? "I can't believe Eleven is getting married," and "Wow!"
Others questioned if Brown was too young to make such a significant personal change and raised concern about her age. "Millie Bobby Brown is just 20 years old and already engaged?," wrote one fan in a tweet. At her early age, I hope she's making the proper choice. Someone else said, "Millie is so young! I hope she has given this some serious thought. A significant commitment is marriage."
Keep Reading
Many admirers also congratulated Brown and Bongiovi on their engagement and wished them a lifetime of happiness, despite the shock and worries. Congratulations to Millie and Jake! Some admirers expressed their excitement to see the young pair take this next step in their love in remarks like these.
Brown and Bongiovi have been dating for over a year. They have kept their relationship a secret from the public and have been relatively secretive about it. The couple has, on occasion, sent lovely photographs and notes to each other on social media to reveal snippets of their affection. Brown posted a picture of herself and Bongiovi together with the remark, "Future Mrs. Bongiovi," as part of her Instagram engagement announcement. The identical image was also posted by Bongiovi on his Instagram, verifying the information.
Fans will definitely continue to track Brown and Bongiovi's journey and send their best wishes as they start this new phase of their life. Brown's engagement at the age of 20 may surprise some people, but it serves as a reminder that people of all kinds, including famous people, can make decisions that go against social standards. Fans will be eagerly awaiting updates as the news spreads about the young couple's wedding plans and are looking forward to watching the talented actress walk down the aisle as she begins a new chapter in her young life.