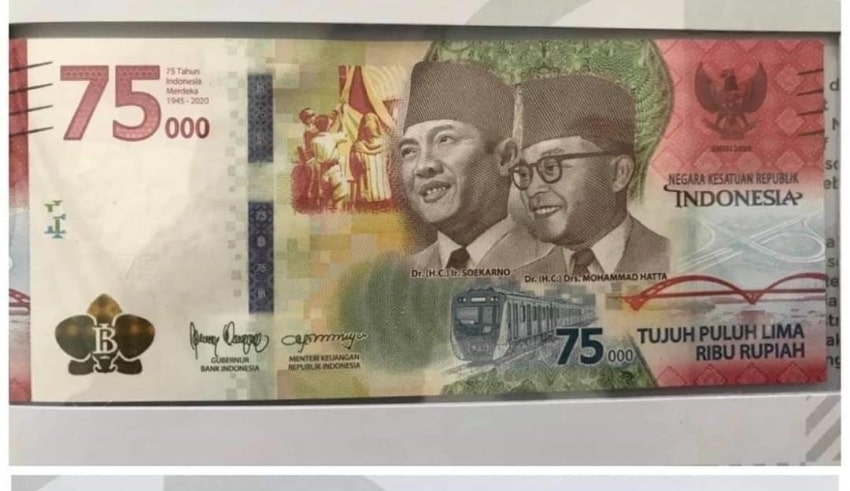 A brand new Rp 75,000 banknote was launched by Minister of Finance Sri Mulyani Indrawati and Governor of Bank Indonesia (BI) Perry Warjiyo, Monday, August 17.
The launch of this money is a form to commemorate Indonesia's 75th Independence Day.
It is for the first time in the history of Indonesia issues a Rp 75,000 bill. Bank Indonesia said the commemorative banknote is printed to an amount of 75 million.
Deputy Governor of BI Rosmaya Hadi stated that the money will indeed be limited to printing because it is pursuing the momentum of the Independence Day. So, even though the public is enthusiastic, there will still be no additions.
"There are so many enthusiasts, what will we print again, this is 75 years of rupiah currency, meaning it was issued in connection with the moment of independence. But as a legal tender for planning, it is said that it is like that, 75 million pieces," he said via video conference, Tuesday, August 18.
Based on the written information uploaded through the official Bank Indonesia website, here are the methods and conditions for obtaining this Rp75 thousand denomination.
• To get the 75th Anniversary of Indonesia's Independence, the public can exchange Rp 75,000 in cash for 1 (one) note of the 75th Anniversary of Indonesia's Independence, which has a nominal value of Rp 75,000.
• Before making an exchange, the public must order an online exchange schedule and location on the PINTAR application on the Bank Indonesia website via the https://pintar.bi.go.id link.
• Every 1 (one) KTP (ID card) can only be exchanged to obtain 1 (one) note of the 75th Republic of Indonesia Commemoration Money with a nominal value of Rp 75,000.
The first phase of BI's exchange program is running from August 17 to September 30, 2020. From October onwards, the distribution of the bill will be handled by BI and select banks.
Previously, there was a narrative that the brand new Rp75,000 that was launched during the commemoration of the 75th Indonesian Independence Day, could not be spent. This narrative was circulating on social media.
Governor of Bank Indonesia Perry Warjiyo confirmed that the Rp 75,000 denomination could be spent. The reason is that these denominations are a legal means of payment.
On the same occasion, Head of the BI Money Management Department, Marlison Hakim, confirmed that this brand new money was declared valid as a means of transaction in the community. This means that people can spend it in accordance with the nominal value, namely Rp 75,000.
However, he understands that the majority of orders are made for collection purposes because of the limited number and the difficulty of obtaining these banknotes.