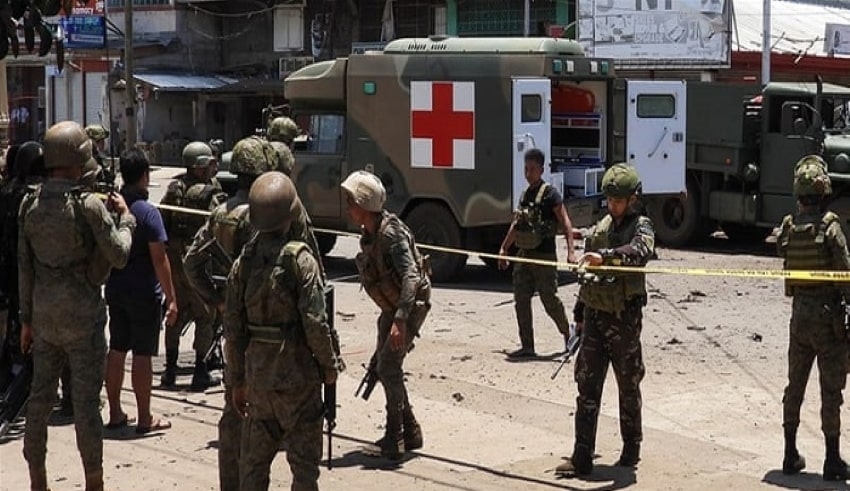 Two bomb explosions shook the town of Jolo, Sulu, southern Philippines, including one reportedly carried out by a female suicide bomber. As the result, at least 14 people have been killed and left 75 wounded.
Philippine Red Cross Chief Richard Gordon said the first explosion hit at approximately noon on Monday (August 24,2020) where a motorcycle loaded with explosive devices went off near a military truck. As authorities were cordoning off the area, the second explosion was carried out by a female suicide bomber who tried to enter the cordoned area but was stopped by a soldier.
In total, eight members of the security forces, six civilians and the bomber were killed in the two blasts, while 27 security personnel and 48 civilians were wounded.
The Phillippines authorities are putting the blame on a terrorist group called Abu Sayyaf, an armed group known to be associated with ISIS. One of Abu Sayyaf's head was captured on the beginning of August and it was suspected that this explosion could be a revenge attack involving Indonesian bombers. However, an investigation is still ongoing and no claim had been made yet.
"Authorities are now conducting an investigation, which includes identifying individuals or groups behind these dastardly attacks."
It was stated that this is the biggest attack on Jolo since January 2019, when two suicide bombers went off in Jolo's Cathedral while Sunday Service was ongoing which had caused 20 casualties and more than 100 wounded.