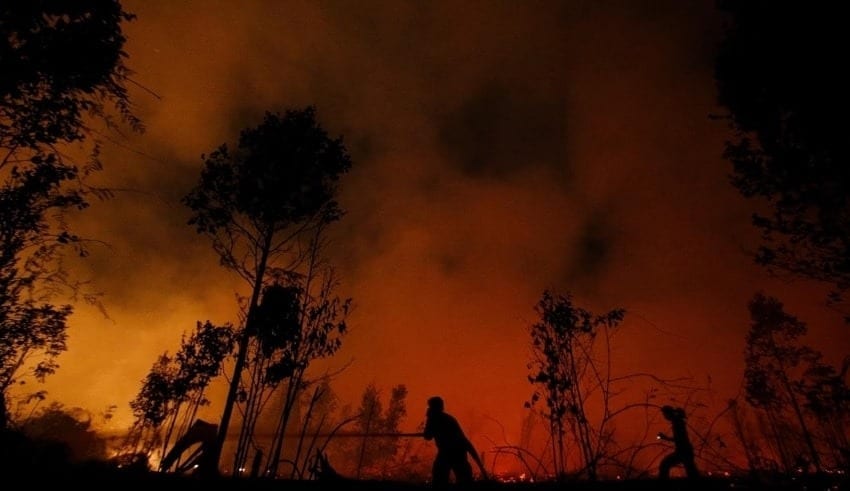 In the past five years, tropical forests and peatland areas greater than the Netherlands have burned in Indonesia, Greenpeace on the other hand, lambasting the government of President Joko Widodo for enabling the pulpwood and palm oil industry to operate with impunity while bearing major responsibility" for the fire crisis.
The influential environmental group said in a new study on Thursday that between 2015 and 2019, some 4.4 million hectares (9.9 million acres ) of land have been burned in Indonesia.
.@GreenpeaceID latest report reveals how almost 4.4 million hectares of land in Indonesia – an area 8 times the size of Bali – have burned between 2015-2019, under the Jokowi's administration.

The 'Omnibus Law' will only aggravate the risk of fires. pic.twitter.com/Iz78gnQhkc

— Greenpeace (@Greenpeace) October 22, 2020
Around a third of those areas were located in concessions of palm oil and pulpwood, citing an examination of official maps. Nevertheless, despite government promises to punish businesses found to be purposely burning concessions, particularly in the aftermath of the 2015 crisis that caused transboundary haze, affecting tens of millions of individuals across Indonesia , Malaysia and Singapore where palm oil and pulp companies continue to operate with little or no penalties.
No action has been taken against eight of the 10 palm oil companies with the largest burned areas in their concessions between 2015 and 2019, despite fires burning within their concessions for many years.
Indonesia 's government and lawmakers recently passed a new law that dismantles environmental safeguards, Greenpeace further exacerbating the situation. In fact, The Omnibus Job Creation Act, drawn up with the participation of the plantation sector approved by Parliament earlier this month, weakens responsibility for environmental crimes, the group said, as the palm oil and pulp sectors will be relieved of responsibility for previous harm they have caused to the peatlands of Indonesia.
The legislation, which sparked tremendous protests in Indonesia over concerns of diminished labor rights, would also shield the plantation sector from potential responsibility for environmental degradation and fires in its concessions.
Related Article: https://www.theasianaffairs.com/indonesia/2020/10/19/firefighters-as-defenders-of-indonesias-peatlands/