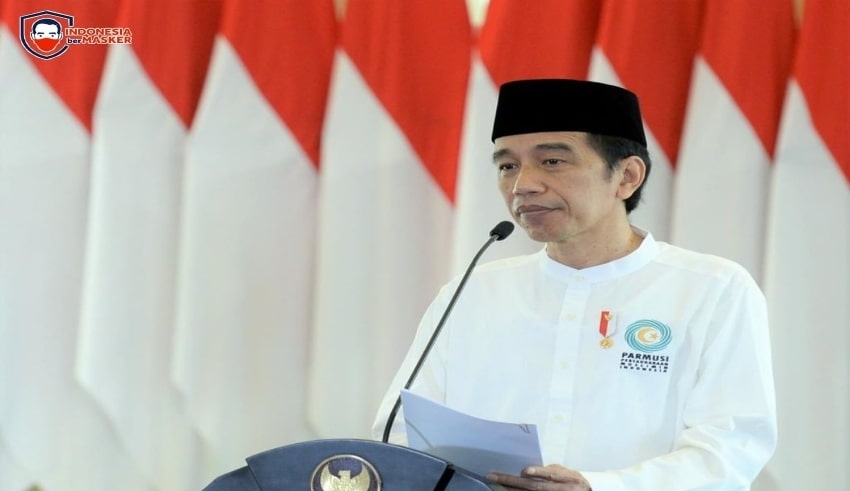 (C) President Joko 'Jokowi' Widodo / Twitter
President Joko 'Jokowi' Widodo said that the Indonesian nation and other nations were facing a very tough trial. Millions of people around the world exposed to COVID-19.
Jokowi also said world economic growth had slowed down due to the COVID-19 pandemic and the economic growth of the number of large countries had decreased significantly since the outbreak.
"The Parmusi Congress held in a different atmosphere amid our nation facing the immense trial of God and human beings around the world are also facing the same thing, the threat of the spread of COVID-19. Millions of people exposed by the COVID-19, " said Jokowi when opening the central board of the Indonesian Muslim Brotherhood (PP Parmusi) Congress at the Bogor Palace, West Java, Saturday, September 26.
Saya membuka Muktamar IV Persaudaraan Muslimin Indonesia 2020 melalui konferensi video dari Istana Bogor, siang ini.

Saya berharap kader-kader Parmusi bersama seluruh elemen bangsa dapat menjaga diri sendiri serta segenap umat, sehingga kita segera pulih dan bangkit kembali. pic.twitter.com/3MPbVUKlAD

— Joko Widodo (@jokowi) September 26, 2020
Jokowi said, this one of the real impacts of the corona pandemic and felt by countries in the world. He explained that, as of September 26, 2020, currently the number of people exposed by COVID-19 in 215 countries had reached 32.7 million people. Meanwhile, in Indonesia, it has 266,845 people.
"But let's look at the United States is 7.2 million people, in India is 5.9 million people, in Brazil is 4.6 million people, in Russia is 1.1 million people and hundreds of thousands of deaths. The number of death worldwide has now reached 991,000 people and in Indonesia as many as 10.000 people, " said Jokowi.
Along with efforts to maximize the number of cured cases, Jokowi said that in Indonesia, the rate of recovery continued to increase, with the last figure on September 25 recorded at 73.5 %.
He added that world economic growth has also slowed down due to this pandemic. The economic growth contracted sharply in the major economies.
Jokowi explained, in the second quarter of 2020, India was minus 23.9 %, England minus 21.7 %, Malaysia minus 17.1 %, Singapore minus 13.2 %, and Indonesia minus 5.32 %.
"Whereas previously in the first quarter we still grew positively 2.97 percent. This is the situation I convey as there are many people losing their jobs around the world and struggling to survive," said Jokowi.