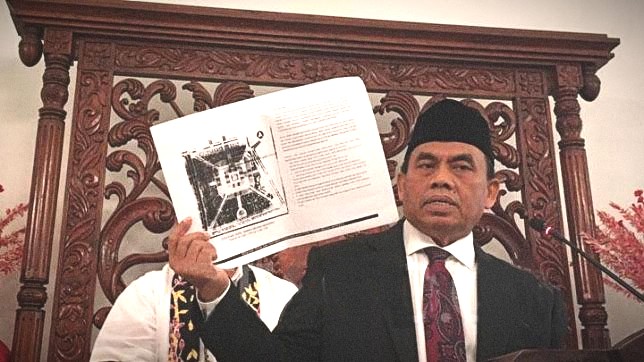 Determination of the location of the celebration of the electric car race (Formula E) 2020 is still a hot conversation at the work desk of the higher-ups in DKI Jakarta.
The issue re-emerged originating from a letter sent by the Governor of DKI Jakarta, Anies Baswedan to the Minister of State Secretariat , Pratikno who also served as Chair of the Medan Merdeka Regional Development Steering Commission.
The error lies in the mention of the recommendation team that suggested the Formula E 2020 event to be held in the Monas area in letter number 61 / -1.857.23.
"In order to maintain the function, environmental preservation and cultural preservation in the Medan Merdeka area in its implementation, the Provincial Government of DKI Jakarta has obtained a recommendation from the DKI Jakarta Provincial Cultural Heritage Expert Team," quoted from a copy of Anies letter.
The contents of the letter were recorded in the Culture Ministry Decree dated January 20, 2020 Number 93 / -1,853.15 which was received by the State Secretariat.
According to Anies's claim, Head of the DKI Jakarta Cultural Heritage Expert Team (TACB), Mundardjito has denied.
"I do not know, we do not make (recommendations), I am the chairman right," said Mundardjito, Wednesday (02/12/2020).
Then immediately, Chairperson of Regional Representative Council (DPRD) DKI Jakarta, Prasetio Edi Marsudi met with the Secretary of the State Secretariat, Setya Utama in the Office of the State Secretariat, the Presidential Palace Complex in Jakarta, Thursday (02/13/2020).
Prasetio thought Anies had received permission from the cultural heritage team, but it turned out that Setya had only just found out.
Prasetio accused Anies of public deception and manipulation of the typing error. DKI Jakarta Provincial Government even asked to cancel the event in the Monas area, so that it would only be moved to Ancol.
That Indonesian Democratic Party of Struggle (PDIP) politician said his disappointment because this is considered a lie to the public.
The Regional Secretary (Sekda) of DKI Jakarta, Saefullah immediately gave a confession that there was a typo.
The recommendation team referred to in the letter should be DKI Jakarta Restoration Session Team (TSP), not TACB.
"No (manipulation), it's a mistake anyone can make mistakes," Saefullah said in the City Hall of DKI Jakarta, Friday (2/14/2020).
He added that if there was an error in the script, there was a possibility of typing in the wrong input and just being fixed.
Head of DKI Jakarta TSP Team, Bambang Eryudhawan also confirmed that it was true that they had given advice and notes to the Head of DKI Jakarta Culture Office, Iwan Hendry Wardhana for the issuance of the recommendation letter.
According to him, the Monas cultural heritage area is not only protected but can be developed in its use, as long as it is not excessive.