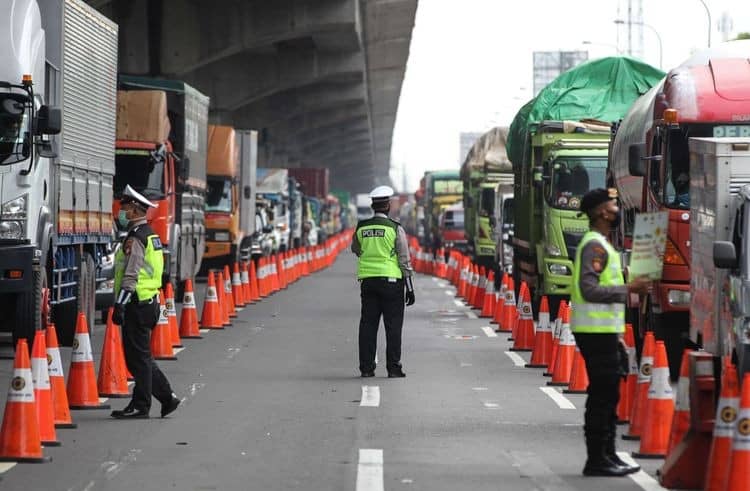 Regions across Java have set up checkpoints to monitor the flow of vehicles between cities and provinces, following the government's ban on Idul Fitri homecoming or mudik, which started on Friday, April 24, 2020.
There are a number of checkpoints that have been prepared by the Transportation Ministry. The areas surrounding Jakarta, including Tangerang in Banten, as well as Bekasi, Bogor, Sukabumi and Cikampek in West Java, to prevent people from leaving or entering the capital for the annual tradition.
"We are gradually preparing [the checkpoints] on toll roads, national roads, provincial roads, even down to the so-called jalan tikus in districts," the ministry's land transportation director general, Budi Setiyadi, said in a press conference on Thursday, April 23.
A checkpoint has been set up at the 31-kilometer point on the Jakarta-Cikampek toll road on the border of Bekasi and Karawang. Authorities standby to conduct inspections on vehicles passing the area, and will ask Private vehicles leaving Jakarta for West Java to make U-turn and return to the capital from West Cikarang.
Until Friday (24/4) morning, police have forced 1,181 vehicles on the Jakarta-Cikampek toll road to turn around and go back to Jakarta from the Cikarang and Cibitung toll gates.
"We turned back 1,181 vehicles from 12 a.m. to 5 a.m, 498 from the Cibitung toll gate and 683 from Cikarang," Jakarta Police spokesman Chief Comr. Yusri Yunus said on Friday.
The checkpoints for land routes will be activated from Friday, April 24 to May 31, in accordance with Transportation Ministerial Regulation No. 25/2020 regarding transportation use control during this year's mudik period to prevent wider contagion of COVID-19 in the country.
Under the regulation, the ministry has set restrictions on all passenger vehicles entering and leaving regions that have imposed large-scale social restrictions (PSBB), including Greater Jakarta and Greater Bandung in West Java.
Acting transportation minister Luhut Pandjaitan, who is also the coordinating maritime affairs and investment minister, said regional governments were allowed to improvise and determine how strict they wanted to implement the monitoring, as long as the policy did not contradict the prevailing regulation.
Toll operator Jasamarga Transjawa Toll (JTT) supports the travel restrictions on the Jakarta-Cikampek toll road, and has closed off the Jakarta-Cikampek elevated toll roads in both directions.
Vehicles, however, still allowed on the toll road include state official cars, police cars, ambulances, fire engines and logistics trucks.
Officers have been ordered to take a "persuasive and humanist" approach by asking vehicles to turn around while waiting for the government to issue fines for violators of the ban.
On the other hand, the Transportation Ministry confirmed that the temporary suspension of flights in the country was only applied to areas enforcing the large-scale social restrictions (PSBB) or COVID-19 red zones.
The flights' suspension is effective from April 24 until May 31, 2020, during the ban on the annual mass exodus or mudik period and affects commercial and charter flights.
Additionally, flights to repatriate Indonesian citizens and foreigners, law enforcement operations, order and emergency services, cargo planes and others under the permission of the Transportation Ministry remain operative.
The Ministry, however, allowed airlines to operate flights on Friday for domestic passengers who had booked tickets prior to the ban on 'mudik' came into effect, but asked them to implement COVID-19 health protocols.
"Considering the specific characteristics of air transportation, the airlines were given a chance to fulfill their obligation towards passengers who had made reservations. But, starting from today, there will be no new reservations," the ministry revealed.
Airlines operating international flights have been allowed to continue services for the sake of foreign nationals wanting to return to their countries or Indonesians seeking to return to Indonesia, the ministry's spokesperson, Adita Irawati, said in a statement here on Friday, April 24.
In order to continue the services, all airlines have been asked to implement COVID-19 protocols.