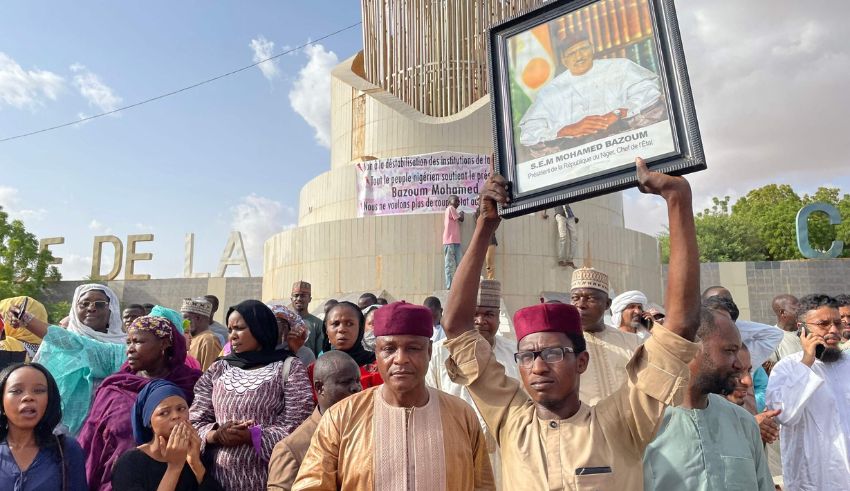 Armed men in Niger announced a coup d'état on national television, ordering the destruction of the constitution, the suspension of all institutions, and the closing of the country's borders. Members of the presidential guard, a critical Western ally in the struggle against Islamist insurgency in West Africa, were holding President Mohamed Bazoum. This coup represents yet another instance of political unrest in the Sahel, raising doubts about the effectiveness of efforts being made by the international community to bring about stability.
Col. Maj Amadou Abdramane delivered the broadcast statement alongside nine uniformed soldiers. He attributed the coup to deteriorating security and bad economic and social governance. The troops took leadership of the nation and demanded that outside partners refrain from interfering on behalf of the National Council for the Safeguard of the Homeland (CNSP). The country's daily operations were turned over to the heads of ministries, and a curfew was put in place.
The world community reacted quickly to the coup in Niger. US Secretary of State Antony Blinken demanded the release of President Bazoum and denounced the effort to usurp power violently. António Guterres, the UN Secretary-General, voiced his entire support for Niger and its democratically elected government. In addition to the ECOWAS, which officially denounced the coup, Benin's President Patrice Talon arrived in Niamey on a mediation mission to restore constitutional order peacefully.
Recent Islamist upheavals have resulted in coups in the neighbouring nations of Mali and Burkina Faso. In both instances, the new military authorities cut ties with France, the former colonial state that had supported efforts to maintain security in the area. Throughout its post-independence history, Niger, a sizable and arid nation on the border of the Sahara desert, has also battled political instability.
Keep Reading
Two Islamist insurgencies are plaguing Niger, one of which originates in Mali to the southwest and the other involving jihadists based in northeastern Nigeria. Given that these insurgencies thrive on instability, bad governance, and local hostility toward the government, the coup could further complicate efforts to contain them. Extremist groups may view this coup as a chance to use the situation for their gain as Western influence in the region is waning.
Concerns regarding the stability of the Sahel area have been raised as a result of the coup that has rocked Niger. The whereabouts of President Bazoum are unknown, and the CNSP soldiers have seized over the government. The effort to take power by force has been denounced by the world community, which has also urged for a peaceful approach to reinstate the rule of law. The precarious character of regional governance and the difficulties in putting down insurgencies are highlighted by the scenario. The future of Niger and its part in the struggle against Islamist extremism are still up in the air as events play out.