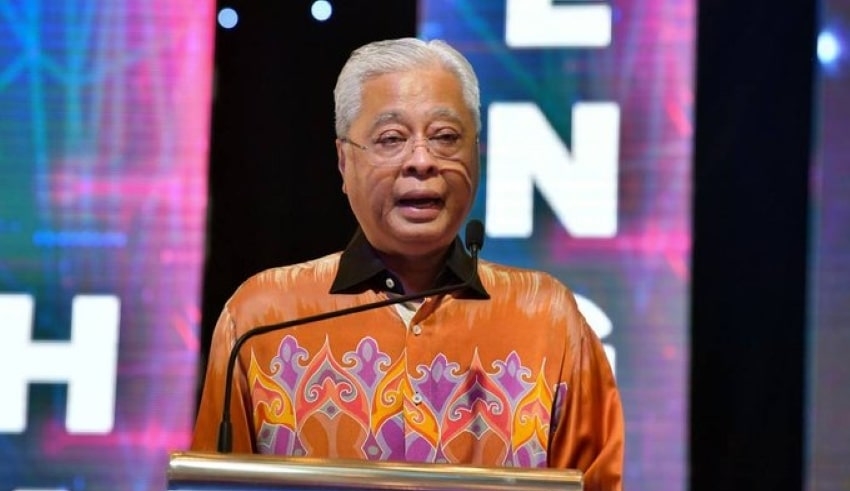 ASEAN – Prime Minister Datuk Seri Ismail Sabri Yaakob has safely arrived in the United Arab Emirates yesterday on a three-day official visit (UAE).
At 6.35 p.m., the prime minister's plane touched down at Al Maktoum International Airport (10.35pm Malaysian time).
On arrival, Ismail Sabri was greeted by Malaysian Ambassador to the UAE Datuk Mohd Tarid Sufian and Malaysian Consul-General in Dubai Mohd Hasril Abdul Hamid, who was also accompanied by Foreign Minister Datuk Seri Saifuddin Abdullah.
🇲🇾 Amb. to the UAE, Dato' Mohd Tarid Sufian in his curtain-raiser for the upcoming Official Visit of PM believed that the visit would further enhance & strengthen 🇲🇾🇦🇪 coop., including post-pandemic recovery, trade & investment, renewable energy, technology & holistic solutions. pic.twitter.com/9SJxMj8f5a

— Wisma Putra (@MalaysiaMFA) March 29, 2022
The prime minister will attend a special event at the Expo 2020 Dubai today, during which he will tour the Malaysia Pavilion.
He will also witness the signing of Memorandums of Understanding (MoUs) with both the Malaysian and international firms. Expo 2020 Dubai, which began in October of last year and will close on March 31.
A few hours after his arrival, Ismail Sabri has attended engagement sessions and meals with members of Keluarga Malaysia (Malaysians in the UAE).
Related Posts
After being sworn in as the ninth Prime Minister of Malaysia on August 21 last year, this is the first official visit of Ismail Sabri to the UAE.
The official trip of the prime minister to the UAE follows a three-day formal visit to Qatar, which began on Saturday.
Ismail Sabri also paid visits to the Baladna Farm and Dairy Facility in Al-Khor, some 50 kilometers away, as well as the Agrico Organic Farm in Al-Khor.
In Doha, he has hosted interaction sessions with Malaysian business people and families.
Ismail Sabri was welcomed with an official ceremony at Amiri Diwan earlier after his arrival, following which he met with Qatar's Amir, Sheikh Tamim bin Hamad Al Thani.
Selepas membuat lawatan rasmi ke negara-negara ASEAN bagi mengukuhkan hubungan Malaysia dan negara-negara jiran ASEAN, saya memulakan lawatan rasmi ke negara-negara Islam di Timur Tengah.

27 Mac 2022, memulakan lawatan rasmi 3 hari ke Qatar. pic.twitter.com/W1Tytfq7kc

— Ismail Sabri (@IsmailSabri60) March 28, 2022
In addition, the Amir held a luncheon for the visiting Prime Minister.
It was also Prime Minister Ismail Sabri's first official visit to Qatar since being appointed.