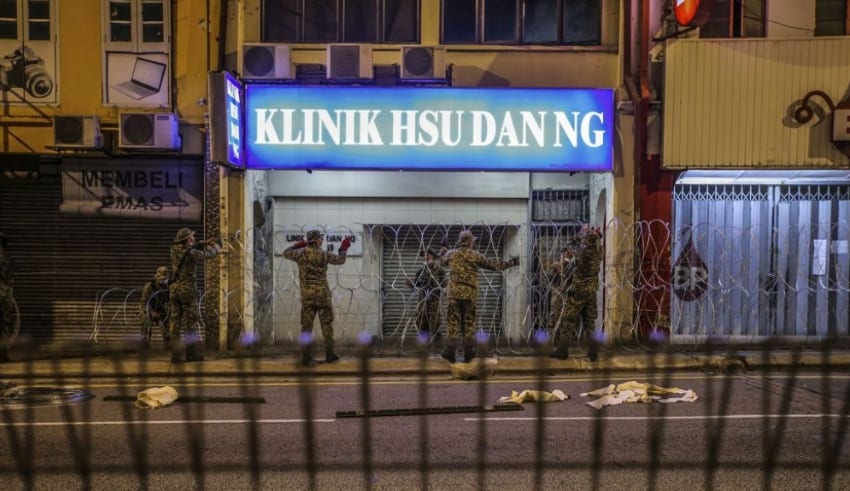 Pudu was fenced off early this morning as the authorities upped efforts in the region to film Covid-19.
Similar to recent activities at the nearby Jalan Raja Bot wet market in Chow Kit, Armed Forces troops were seen building barbed wire fencing as early as 3 am in surrounding areas around the Hotel Pudu Plaza.
Kuala Lumpur Chief of Police Datuk Seri Mazlan Lazim acknowledged the area had been cordoned off but said it was not under the enhanced movement control order (EMCO). Mazlan explained that it's not a shutdown but an experiment to 'empower' the movement control order (MCO).
Recently the Ministry of Health ( MOH) had ordered the market along Jalan Raja Bot in Kuala Lumpur to close for two weeks. The market was closed for sanitation until last Wednesday, when all market workers were screened by the MOH. Because of its proximity to Bukit Bintang and Chinatown, and the high number of shops and schools in the city, Pudu is known as a crowd magnet.
More than 500 international employees have been screened at the wet market and nearby areas of Pudu so far, as businesses were permitted to operate on May 4 under the conditional MCO.
Authorities like MOH employees, police, Kuala City Hall rounded up international workers for swab checks, most of them employed and staying in the market and businesses around Jalan Pasar Baharu and Jalan Yew.
In view of this, last May 5th, Federal Territories Minister Tan Sri Annuar Musa said that three regions, Taman Wilayah and Taman Desa Bakti in Selayang as well as Jalan Raja Bot in Chow Kit, had not been put under EMCO, but partially under EMCO.