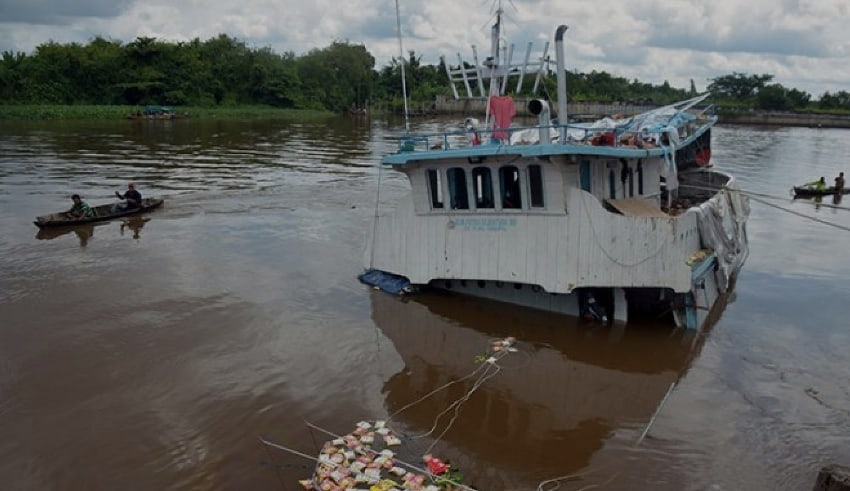 The Putra Sejahtera 89 Motorboat which loaded the food in the Siak River, Pekanbaru City, Riau, on Friday, May 15. As a result of the incident, the loss was estimated to be at least Rp. 4 billion.
"The total loss is around Rp. 4 billion," said the owner of the Putra Sejahtera 89 boat, Hariyanto in Pekanbaru, Friday, May 15.
Haryanto explained the wooden ship sank when it was about to depart from the people's port in the Limapuluh District, Pekanbaru, on Friday morning at around 05.30 WIB. The current of Siak River, which is the deepest river in Indonesia, is so strong that it makes the boat capsize.
"Strong currents, when turning the ship upside down immediately sank," he said
Furthermore, Haryanto said the ship should have sailed to Tanjung Balai Karimun, Riau Islands Province. The ship was loaded with groceries whose volume reached 80 tons. As soon as the ship sank, the cargo of the ship spilled into the river. Residents around the port directly looted cargo, such as biscuits, instant noodles, oil, eggs, and others.
Residents take items using canoes, some even swim in sunken ships to plunder.
"All goods are looted, I can't ban it because there are too many people. There are 1,000 to 2,000 people who take the goods, "he said.
While he said the entire crew of six people survived the shipwreck incident.
Commander of the Patrol Unit of the Sea and Coast Guard (KPLP) Pekanbaru, Rian Erlindo, said that as soon as he received a report he immediately attempted to evacuate goods from the ship. "Including the security of the people who plundered us to be back for all," he said. He added, his party would also help the shipowner lift all the cargo ashore and help lift the shipwreck back. KM Putra Sejahtera now leaves only the bridge and bow that are visible on the surface of the water. "After completing the evacuation, we will investigate the next steps," said Rian.