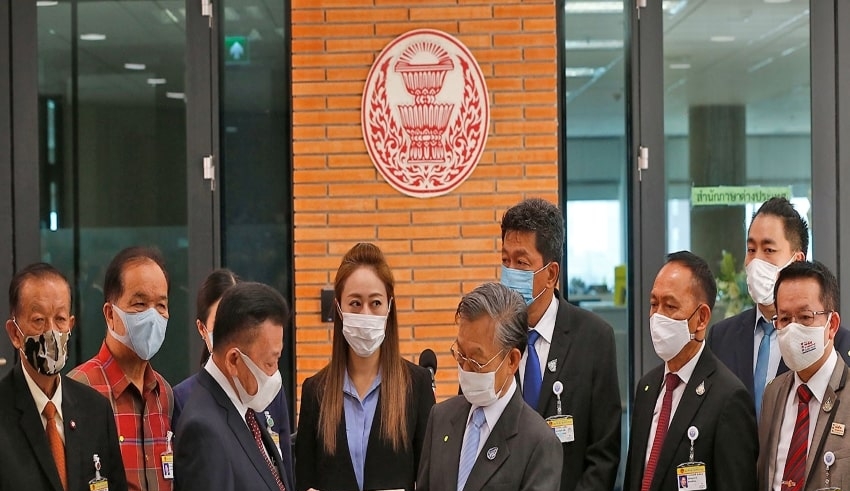 The effort to draft a new charter, seen as a key step towards defusing tension and resolving political disputes, was launched following the approval by House Speaker Chuan Leekpai of an opposition-sponsored motion to amend Section 256 to pave the way for a charter drafting body to be set up.
Pheu Thai leader Sompong Amornvivat filed a motion in the presence of opposition parties — Pachachat, Puea Chat, Thai People Power and Seriruamthai. The Move Forward (Kao Klai) Party did not have a representative to accompany the opposition camp.
According to Mr. Chuan, the process of checking the validity of the motion will begin immediately and be put on the agenda of the House meeting within 15 days. Sen. Speaker Pornpetch Wi-chitcholchai shrugged off the demands of student activists that the Senate should be disbanded, saying they had to recognize that the Senate and the State were regulated by the Charter and related rules.
Prime Minister Prayut Chan-o-cha shrugged off calls for the government to meet its demands next month, saying that the government would have to follow the procedures. At the Sunday rally held by the Free People Group, the protesters urged the government to dissolve the parliament to allow the people to exercise their right to elect their own representatives by amending Sections 269 and 272 of the Constitution.
Gen Prayut said efforts were underway to address the demands for the revision of the Charter, pointing out that the House set up a committee to study the amendments to the Charter and the government planned to hold a forum to listen to the opinions of students. The motion of opposition is directed at Section 256, which specifies that the alteration of the Charter needs the support of at least one third of the Senate or 84 senators. The condition is generally seen as a significant barrier to the rewrite of the coup-sponsored constitution.
Mr Sompong said that the motion was drawn up with the support of the civic sector in order to pave the way for the establishment of a new charter drafting body. Consensus prevailed among the participants who agreed that the Charter had some defects and should be updated, he said.
Chief Opposition Whip Sutin Klungsang insisted that the motion was backed by the Move Forward Party and that at least 30 members of Parliament had signed a motion in support of the motion even though none of the party's representatives were present. The amendment to the Charter was part of the policy statement made by the Government last year in the House of Representatives.
Efforts to reform the Charter were launched in December when the House of Representatives voted to set up a committee to examine constitutional changes headed by Pirapan Salirathavibhaga, advisor to the Prime Minister.
However, the motion of the Opposition was seen as a concrete move to reinvigorate the process.
Related Article: https://www.theasianaffairs.com/thailand/2020/07/29/right-wing-group-is-expected-to-hold-a-rally-as-a-result-of-an-upgrade-of-activism/