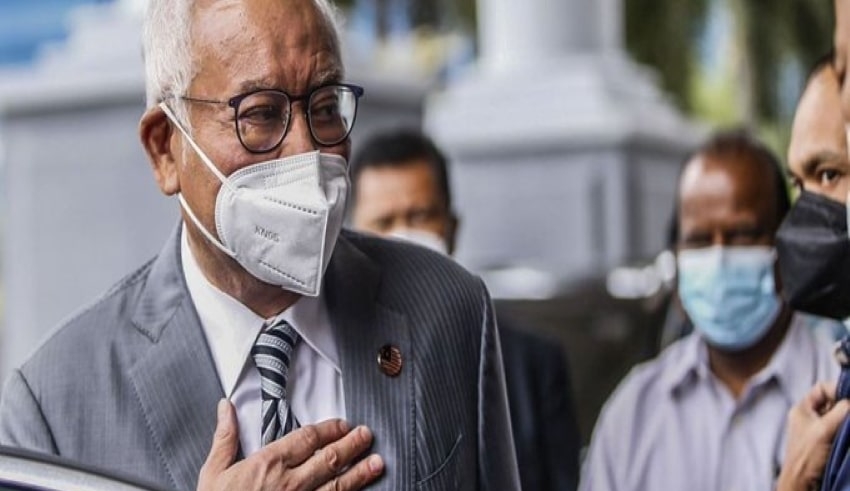 Malaysia – Former Prime Minister Datuk Seri Najib Razak is attempting to have his conviction in the SRC International Sdn Bhd case overturned by having the appeal hearing dates vacated based on fresh information. The hearings are scheduled for March 15 and 16 at the Federal Court.
Najib's attorney wrote to the Federal Court to request that the hearing dates be vacated, according to Deputy Public Prosecutor Mohd Ashrof Adrin Kamarul, who verified the situation.
"The legal team requested the delay since they are still obtaining all notes, evidence, and documents relevant to the SRC trial at the High Court in order to prepare written arguments for the additional evidence appeal," the statement reads.
"However, in the coming days, the court will formally tell parties of the outcome (postponement)," he informed the reporters following virtual proceedings before Federal Court deputy registrar Siti Hajar Mustaffa.
He said that the court has scheduled the next case management on April 8, at which time Najib's lawyer would confirm the date of the application for Queen's Counsel (QC).
Related Posts
On January 25, 2022, the law firm Messrs Shafee & Co sent a six-page letter to the secretariat of Chief Justice, Tun Tengku Maimun Tuan Mat, expressing Najib's desire to recruit a QC from the United Kingdom to help him in his SRC appeal before the supreme court on complicated problems and legal matters.
The Court of Appeal refused Najib's plea to adduce new evidence in his appeal on December 7, 2021, saying that Najib had failed to meet Section 61 of the Courts of Judicature Act, which stated that fresh evidence was essential for justice in the case.
The same court affirmed Najib's conviction, 12-year prison sentence, and RM210 million punishment for misappropriating RM42 million in SRC money the following day.
On July 28, 2020, Najib's appeal against the KL High Court ruling was denied by Justice Datuk Abdul Karim Abdul Jalil, who headed a three-member bench that included Justices Datuk Has Zanah Mehat and Datuk Vazeer Alam Mydin Meera. Following the verdict, Najib filed an appeal with the Federal Court.