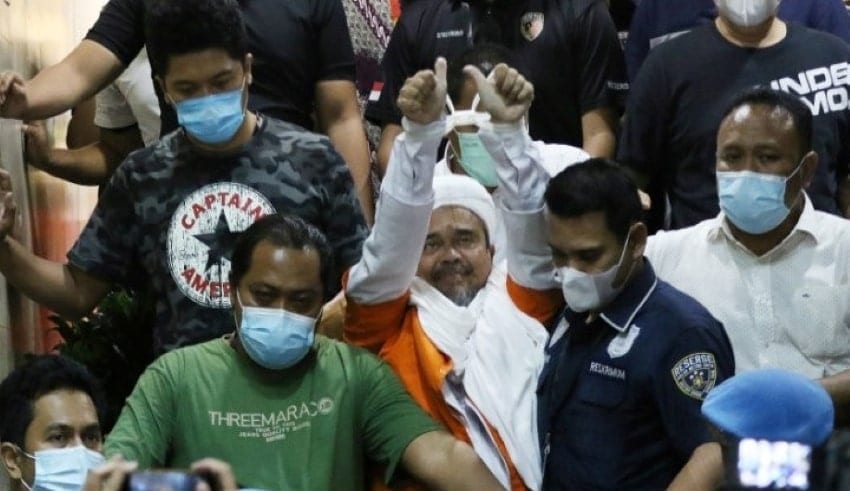 Despite the current issue facing, "Allahu Akbar" was heard through many supporters of Islam Defenders Front (FPI) chief Habib Rizieq Shihab while witnessing at the Jakarta Metropolitan Police Detention Center.
Few of the supporters who gathered at the Jakarta Metropolitan Police Headquarters with a pack of journalists not only supported screamed "Takbir" which means Allah is the greatest but also prayed for this well-respected ulema to be protected by Heaven.
Looking back, Habib Rizieq Shihab was detained after he was questioned for about 12 hours by police investigators over the suspected violation of government health protocols in a series of crowd-pulling activities conducted last month at his home and FPI headquarters in Petamburan. He was seen wearing a Muslim outfit and an orange jacket as depicting that he was formally in police custody when his two hands were handcuffed with a white plastic zip tie.
The National Police Spokesman Inspector General Argo Yuwono on the other hand, prepared a press conference at the Jakarta Metropolitan Police headquarters quickly after being transferred to the police detention center. Yuwono highlighted that Habib Rizieq Shihab was held at the Jakarta Metropolitan Police Drug Investigation Directorate detention center for 20 days as of 12 December 2020.
The length of the prison term, which was theoretically more than five years, and attempts to render him unable to destroy evidence, run away, and do similar crimes were among the points taken into account by the investigators in determining the suspect's custody.
He recently lost six of his guards who were killed earlier this week, faced 84 questions from police investigators during the interview, accusing him of breaching Articles 160 and 216 of the Criminal Code.
The Jakarta Metropolitan Police Speaker shared about Shihab's detention shortly after the police's questioning on the suspected violation of the health protocol.
Consequently, Yunus shared that after police officers finished questioning him, the FPI chief was directly arrested. Yunus, however, asserted that police investigators had the ultimate authority to determine if Shihab would be arrested later.