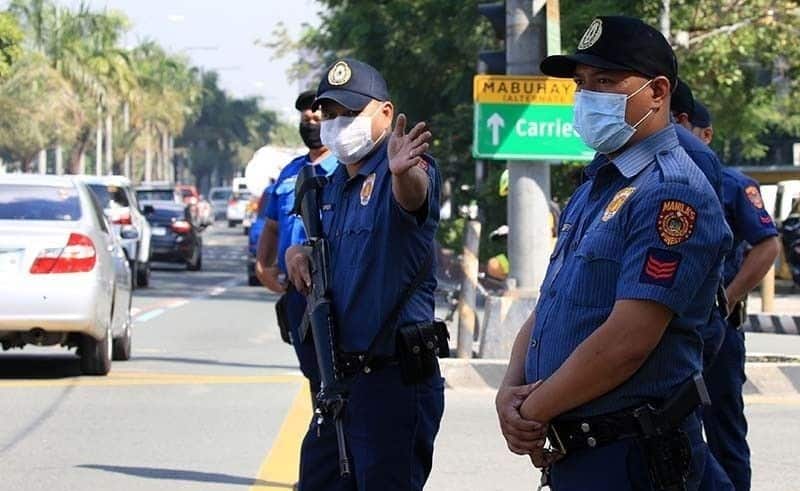 On the first day of tighter quarantine rules imposed on Metro Manila and the rest of Luzon some Filipinos still left their homes, searching for supplies for the days ahead.
Anxious shoppers had to wait in long, spaced-out queues before they could even reach a grocery store, while shop owners enforce social distance or maintain a one-meter gap between people — to prevent the disease spreading.
Some of the shoppers were irritated as they navigated the shelves and fell in line with the cash ier, topping their supply-filled baskets and carts. One drug store on Tomas Morato put markers on its floors to indicate customers where they should stand, maintaining the required distance away.
Also a handful of restaurants remained open, but only accepted take-out orders and home deliveries. Banks have opened to serve a few customers who had transacted.
Workers are advised to keep these shops up and going, even though they have to go through strict checkpoints and get creative with no public transportation available for their commute. Some had to walk to work and present authorities with an ID or other evidence of employment before they would be permitted to drive or cross city lines.
On the other side, barangays are using grim and creative tactics to help people stay at home.
At night, a black hooded figure is holding what looks like a sickle, a sewn head and a message comes out to stay at home in Sta barangay. Manila Cruz.
Barangay 344 officials used the Death symbol to warn residents, particularly children, to stay home after 8 p.m. Curfew, or run the risk of new coronavirus infections.
These are some of the ways filipinos try to survive nd beat coronavirus.