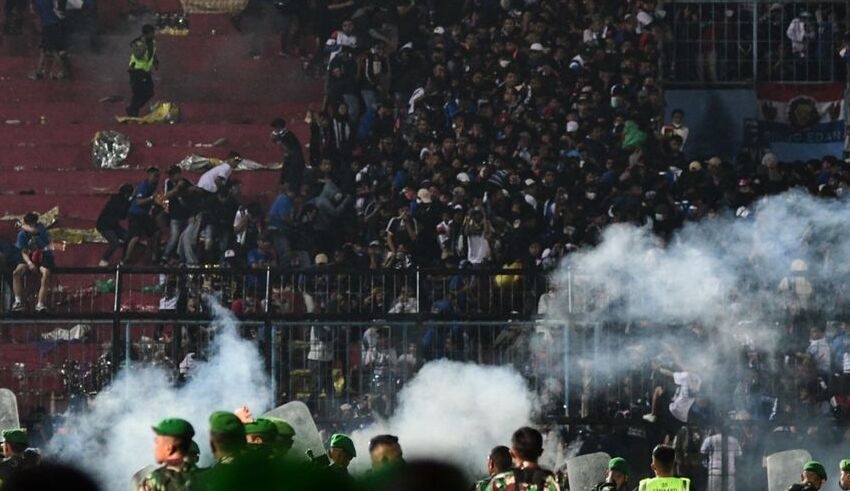 Two of the three police officers charged in connection with a crowd crush that resulted in the deaths of 135 people in Indonesia have been acquitted, with only one officer being incarcerated on charges of negligence resulting in death. These decisions are likely to be a further source of disappointment for the families of the victims.
Bambang Sidik Achmadi, the former head of the Malang Regency Police's Prevention Unit, was first sent free by a district court in the city of Surabaya, some 740 kilometers (484 miles) east of the capital, Jakarta, on the basis that there was insufficient evidence to indict him.
He then declared that Malang Regency Police Chief of Operations Wahyu S Wahyu had likewise been acquitted.
Hasdarmawan, who oversaw a unit of the paramilitary police squad known as Brimob, was the only officer imprisoned. He was sentenced to 18 months in prison.
In Malang, East Java, after the conclusion of a fiercely contested match between bitter rivals Arema FC and Persebaya Surabaya in October 2022, two match officials were imprisoned last week for the resulting crush.
Away supporters were forbidden from the game, but as crowds swarmed the field after the final whistle, police fired tear gas canisters. Many panicked and hurried to the escape gates, only to discover that part of the gates were shut, locking them inside.
Keep Reading
The police reported the pitch invasion as a riot and claimed that two officers were murdered; however, survivors criticized the police of overreacting. Videos depicted officers employing excessive force, including kicking and striking fans with batons, and shoving people back into the stands.
In response to national outrage over the killings, President Joko Widodo commissioned an investigating team, which determined that tear gas was the primary cause of the crowd surge.
Indonesia's human rights committee reached the same judgment, stating that the use of tear gas, which is prohibited by the international governing body of football, was "indiscriminate" and "excessive."
Hasdarmawan was charged with negligence because he instructed his subordinates to employ tear gas. However, in delivering the punishment, the judge stated that the behavior of the supporters may have contributed to the decision to deploy tear gas. Also, he mentioned that the police had assisted the inquiry.
In response to the disaster, the head of the Indonesian National Police, Listyo Sigit Prabowo, fired the Malang police chief, Ferli Hidayat, and nine Brimob officers.
The trial of the three officers and the match officials commenced in January and has been plagued with complaints.
On February 14, a video released on social media purported to show Indonesian police personnel attempting to interrupt this trial by jeering and heckling as prosecutors came in court.
The prosecution had requested six-year prison terms for the two officials who received sentences of one year and eighteen months apiece. Unknown is the nature of their request in the instance of the police personnel.
The prosecution has the right to appeal verdicts.